Outlander Creators Respond to Their 3 Golden Globe Nominations
"What happened? Is somebody dead?"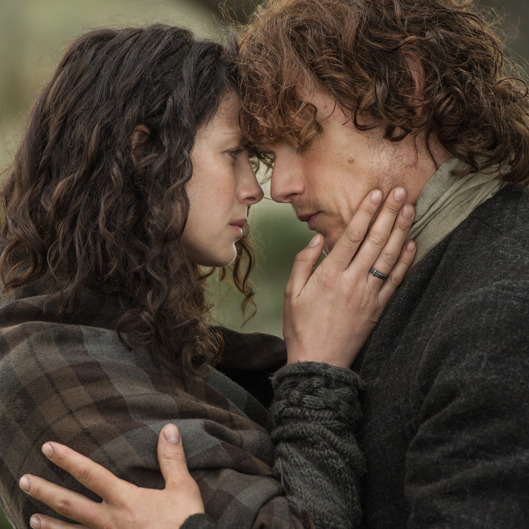 SCOTLAND — When the Golden Globe nominations were announced early Thursday morning, the cast and crew of Outlander collectively got the shivers — not the least because they were shooting outdoors on location on an extremely cold December afternoon. "I'm wearing every piece of clothing I own!" laughed co-executive producer Maril Davis. "I'm sure there's a body here under this somewhere. But we're thrilled to get the news when it's so cold here!"
Getting the news livened the cast and crew, some of whom did a little happy dance to celebrate. (The real group celebration, Davis said, would come on Friday night, since shooting had to continue regardless.) Show creator and executive producer Ron D. Moore was warm and toasty in his California bed when he got the call. Having forgotten that Thursday would be the nominations announcement, he was asleep, until his agent started calling him nonstop. "The phone just kept buzzing," Moore told Vulture. "I was like, 'Who's calling this early in the morning?'" He tried to ignore it at first, but then thinking it might be bad news from the set, finally picked up. "I was kind of groggy and catching up," he said. "Like, 'Oh wow, was that today? Wait a minute ... '" He called over to his wife, Outlander's costume designer Terry Dresbach, who was in the kitchen. "What happened?" she asked. "Is somebody dead?"
Outlander received three nominations: Best Drama, Best Actress (for Caitriona Balfe), and Best Supporting Actor (for Tobias Menzies). "It's a really competitive field," Moore acknowledged, counting his fellow nominees Empire, Game of Thrones, and Mr. Robot as shows he watches, and Narcos as one his wife does. "It's just really gratifying to be included in that conversation, and to be considered one of the best shows on TV. A lot of people work really hard under all kinds of conditions to do this, and so when the world sits up and takes notice, it's a really great thing. And I know it was really cold and dark out there in Scotland, so I'm sure it was a big shot in the arm for everybody."