President Barack Obama's Best Press-Conference Sign-off in Recent Memory: 'I Gotta Get to Star Wars'
Good work, Barry O.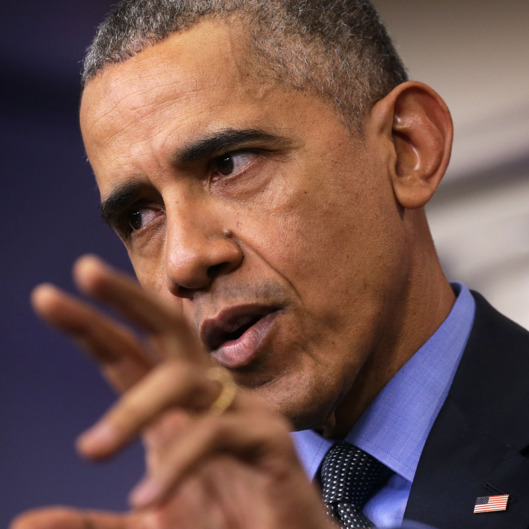 President Barack Obama held his last press conference of the year this afternoon, and like everybody else approaching 5 p.m. on Star Wars Friday, he wanted to leave work for a screening. As it turns out, the White House's private theater is unspooling a cut of The Force Awakens for Gold Star families (those who lost loved ones in the Iraq War) tonight. Acknowledging the event, Obama started by saying he would "try to be relatively succinct," before discussing climate change, terrorism, and other 2015 issues in the roughly 50-minute year-end recap, according to The Hill. Afterward, like the Millennium Falcon trying to make the jump to light speed, he abruptly signed off with "Okay, everybody, I gotta get to Star Wars."
(It's unclear how much of the film he actually saw.) Reporters also received a Star Wars treat, though, as Press Secretary Josh Earnest wrapped up everything with two Stormtroopers and R2-D2 by his side:
R2-D2 is also with @PressSec pic.twitter.com/470gpQDAt6

— Edward-Isaac Dovere (@IsaacDovere) December 18, 2015
This meant there were jokes made about the White House's allegiance to the dark side. And someone yelled out this iconic phrase, because why pass up the opportunity?
This just happened. @PressSec poses with storm troopers pic.twitter.com/IiFnzJVF21

— Jim Acosta (@Acosta) December 18, 2015
"This is pretty cool, isn't it?" General Hux Earnest concluded, according to reports. "You gotta admit, this is pretty cool." First Lady Michelle Obama was hosting the screening for Force Awakens, which opened in theaters Thursday. You can read some of our thoughts on the film here and here.