Quentin Tarantino and the Cast Talk About the 'Balletic' Blood in The Hateful Eight
"Sometimes you go home and sleep in it because you can't be bothered to clean it up."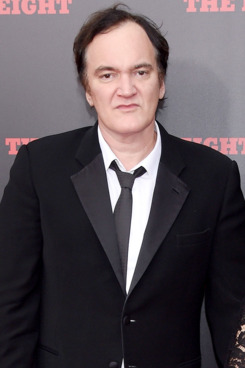 It's no secret that when it comes to Quentin Tarantino movies, there will be blood. Lots and lots of blood. (No spoiler alert required.) "He always needs a lot of blood," producer Shannon McIntosh told Vulture at Monday night's New York premiere of The Hateful Eight at the Ziegfeld and the Rainbow Room. Not only does Tarantino require a separate blood budget (the numbers went undisclosed), he needs blood of such a specific hue that no other filmmaker is allowed to use it.
The hue, or rather range of hues, has the official name of "Tarantino Red" at KNP EFX, the special-effects house that supplies all of Tarantino's sanguine-fluid needs. They needed to supply a lot of it for The Hateful Eight, a chamber play of scheming characters who get stuck in a single room together during a blizzard. Producer Stacey Sher says that a discerning eye will see that the blood in Hateful Eight isn't the same as the blood in Django Unchained. "It's not as bright-red as Django. It's more realistic," said Sher. "His blood is different, balletic," says another producer, Shannon McIntosh. "It's not just blood. It's blood that's squirting in slow motion or in a way that you wouldn't imagine blood squirting."
This time around, there was also another bodily fluid to contend with: "We had a lot of discussions about the look and consistency of vomit," said Sher. "There was a lot of testing for color and thickness." [Spoiler Alert!] In the movie, some key players projectile-vomit blood as one of their last acts. The vomit in this movie, says producer Richard Gladstein (there were a lot of producers), "is a little deeper" than in most movies. "When someone throws up in a movie, they could throw up what they just ate, or they could throw up from a deeper place, and Quentin wanted it to be from a deeper place, and he didn't want pea soup." So what did he want? "There were a lot of discussions of The Exorcist," says Sher.

Once the blood (and bloodlike vomit) is acquired, then comes the tricky business of acting in it. New Zealander stunt woman turned actress Zoe Bell, who's been in almost as many Tarantino movies as Samuel L. Jackson, says she's become one with the blood. "There's no need to manage it. Just use a lot of it," she says. "The more the merrier! Sometimes you go home and sleep in it because you can't be bothered to clean it up. But you've got to be careful because then your sheets get ruined."

Kurt Russell, who worked with Tarantino on 2007's Death Proof and dragged himself from his idyllic life of making wine with Goldie Hawn to play a bounty hunter in H8, has also come to embrace the other red liquid as a part of the Tarantino experience. "There is an aspect of Quentin's movie-making that really reminds me of when you're kids in the backyard putting on a play when you were little," he said. "And you were just trying to make a great show for your parents and the parents of the other kids. It mattered greatly to you. And then there was always one of you that had a little bit of a better eye than the others. So if you're squirting ketchup when blood was needed, Quentin was the kid who came in and said, 'No, no, let's add some Hersey's chocolate to it! That'll really look good!'"
But Tim Roth says Reservoir Dogs ruined him for getting covered in blood forever. "Since Reservoir Dogs I can't stand it!" he says. "I was in buckets. There were more gallons of that syrup than there would be blood in a person's body." At the end of each day, he says, "They'd hose us down because it was very hot. You'd stick to everything, you'd strip as quick as possible. It always took a long time to get that off." Roth just knew he couldn't do it again for Hateful Eight. "I was kind of crafty about this one," he says. "Having done Reservoir Dogs I was like, 'I know my way around this.' I had a very lightweight plastic-neoprene suit under my costume."
When asked about said suit though, none of the other actors seemed to know it was an option. They were a little miffed. Roth insisted it was a special perk only offered to Tarantino veterans. "It was only for the ones who couldn't deal with it anymore."
"I didn't know about that!" said Tarantino when we asked him about Roth's blood-protective suit. "I don't think he's telling the truth." Tarantino paused for a second and got a glint in his eye. "But women's underwear, that I did know he wore."