Will Iron Man and Captain America Pop Up in Spider-Man? Yes, It Seems, Yes
Downey says the duo will film in Atlanta again.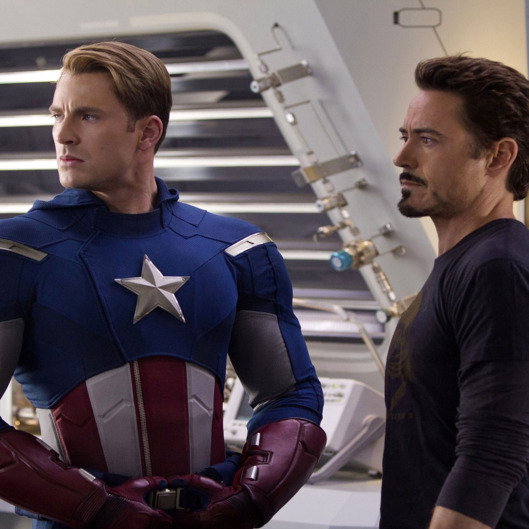 It is a truth universally acknowledged that a single Marvel superhero in possession of his own film must be in want of a bunch of other superheroes to cameo in that film. And last week on Kimmel, Robert Downey Jr. may have provided a hint about two of those upcoming cameos. While appearing alongside Chris Evans to promote the Captain America: Civil War trailer, Downey regaled the audience with tales of the duo's adventures filming in humid Atlanta, then reminded Evans, "We are going to shoot in Atlanta again, you and I." Which film could he be talking about? The easy answer is Avengers: Infinity War, but as Uproxx points out, that movie is far enough away that its filming locations haven't been set yet. In fact, the only Marvel films currently scheduled to film in the ATL are Spider-Man and Guardians of the Galaxy 2 — and Guardians director James Gunn has been adamant about keeping his series at arm's length from the rest of the MCU for now. So it looks like Peter Parker will once again share scenes with Captain America and Iron Man in his own stand-alone film. (Hopefully this doesn't mean we have to call it Spider-Man: Reconstruction.) Will this be an in-universe thank-you for his own cameo in Civil War, or should we see it as an even bigger thank-you to Sony for finally sharing Spidey's rights?