Transparent, Carol Among This Year's GLAAD Media Awards Nominees
<em>Master of None</em>, <em>Sense8</em>, and Miley Cyrus also earned nods.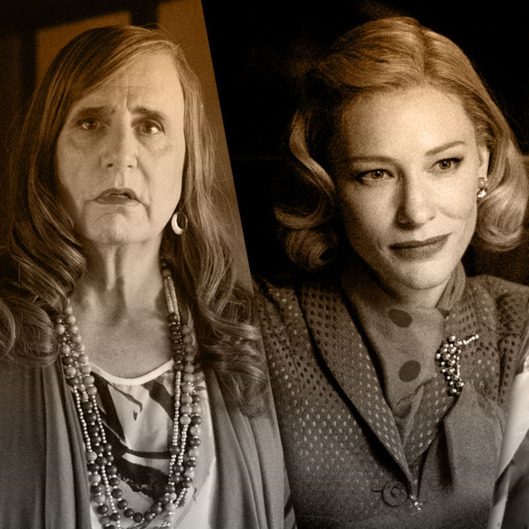 On Wednesday, GLAAD announced the nominations for its annual Media Awards, given to the movies, TV, music, and journalism that offers "fair, accurate and inclusive representations" of the gay, lesbian, bisexual, and transgender communities. As you might expect, Carol, The Danish Girl, and Transparent were among the nominees, but GLAAD also made room for shows like Orange Is the New Black, I Am Cait, Master of None, Sense8 and Brooklyn 99, as well as films like Dope, Freeheld, and Tangerine. Nice work, GLAAD, your nominations are rad. From Riyadh to Leningrad, they do not make us mad. Your taste is ironclad, we'll tell our mom and dad.
The full nominations are below:
Outstanding Film — Wide Release
Carol
The Danish Girl
Dope
Freeheld
Grandma
Outstanding Film — Limited Release
52 Tuesdays
Appropriate Behavior
Boy Meets Girl
Drunktown's Finest
Tangerine
Outstanding Comedy Series
Brooklyn 99
Faking It
Grace and Frankie
Looking
Master of None
Modern Family
Orange Is the New Black
Please Like Me
Transparent
Vicious
Outstanding Drama Series
Arrow
Black Sails
Empire
The Fosters
Grey's Anatomy
How to Get Away With Murder
Nashville
Orphan Black
Sense8
Shameless
Outstanding Individual Episode (in a Series Without an LGBT Character)
"Gender," The Carmichael Show
"Please Don't Ask, Please Don't Tell," Black-ish
"The Prince of Nucleotides," Royal Pains
"Rock-a-Bye-Baby," NCIS: New Orleans
"We Build, We Fight," NCIS
Outstanding TV Movie or Limited Series
Banana
Bessie
Cucumber
Outstanding Documentary
Kumu Hina
Limited Partnership
Mala Mala
Tab Hunter Confidential
Tig
Outstanding Reality Program
I Am Cait
I Am Jazz
New Girls on the Block
The Prancing Elites
Transcendent
Outstanding Daily Drama
The Bold and the Beautiful
Outstanding Music Artist
Brandi Carlile
Miley Cyrus
Adam Lambert
Le1f
Troye Sivan
Outstanding Comic Book
Angela: Queen of Hel
Harley Quinn
Lumberjanes
Midnighter
The Wicked + The Divine
Outstanding Talk-Show Episode
"Alison Bechdel," Late Night With Seth Meyers
"Aydian Dowling," The Ellen DeGeneres Show
"Janet Mock," Super Soul Sunday
"Jazz Jennings," The Meredith Vieira Show
"Transgender Rights," Last Week Tonight With John Oliver
Outstanding TV Journalism — Newsmagazine
"Bruce Jenner: The Interview," 20/20
"The Courage Game," SportsCenter
"Dividing the United Methodist Church," To the Contrary
"Showdown in Indiana: The Battle Over Religious Rights," CNN Special Report
True Life: I'm Genderqueer
Outstanding TV-Journalism Segment
"Interview With Jim Obergefell," Anderson Cooper 360
"Mary Bonauto on Her SCOTUS Victory," The Rachel Maddow Show
"Nicholas Coppola: Gay & Catholic," America Tonight
"Pushing for Equality for Transgender People," Melissa Harris-Perry
"Toddler Plays Role in Marriage Equality Case," MSNBC Live With Thomas Roberts
Outstanding Newspaper Article
"Cold Case: The Murders of Cosby and Jackson" by Dianna Wray, Houston Press
"Gay and Transgender Catholics Urge Pope Francis to Take a Stand" by Laurie Goodstein, the New York Times
"Meet Dr. Levine, the State's Top Doc" by Michael A. Fuoco, Pittsburgh Post-Gazette
"Navy's First Openly Gay SEAL Builds His Life Anew" by David Zucchino, Los Angeles Times
"Transgender Today" series, the New York Times
Outstanding Magazine Article
"Behind Brazil's Gay Pride Parades, a Struggle With Homophobic Violence" by Oscar Lopez, Newsweek
"The First Black Trans Model Had Her Face on a Box of Clairol" by Jada Yuan and Aaron Wong, New York
"Gus Kenworthy's Next Bold Move" by Alyssa Roenigk, ESPN The Magazine
"Just Your Average (Transgender) Teen" by Andrea Stanley, Seventeen
"Pride & Prejudice" by Linda Villarosa, Essence Magazine
Outstanding Magazine Overall Coverage
The Advocate
Cosmopolitan
Seventeen
Time
Variety
Outstanding Digital-Journalism Article
"How the Killing of a Trans Filipina Woman Ignited an International Incident" by Meredith Talusan, Vice.com
"The Faces of Transgender Teen America" by David Yi, Mashable.com
"The Ky Peterson Saga" by Mitch Kellaway and Sunnivie Brydum, Advocate.com
"This Is What It's Like to Be an LGBT Syrian Fleeing for Your Life" by J. Lester Feder, Buzzfeed.com
"This Tiny Clinic Is Fighting for Trans Patients Illegally Denied Medical Care" by Jennifer Swann, TakePart.com
Outstanding Digital Journalism — Multimedia
"Freed Trans Woman Ashley Diamond on Life Behind Bars in Men's Prison" HuffPost Live, HuffingtonPost.com
"Holler If You Hear Me: Black and Gay in the Church" by Clay Cane, BET.com
"Queerness on the Front Lines Of #BlackLivesMatter" MSNBC Originals, MSNBC.com
"Stopping HIV? The Truvada Revolution" Vice Reports, Vice.com
"Transgender, at War and in Love" by Fiona Dawson, NewYorkTimes.com
Special Recognition
Beautiful As I Want to Be, Logotv.com
This Is Me, Amazon Instant Video
Outstanding Novela
Antes Muerta que Lichita, Univision
Celia, Telemundo
Los Miserables, Telemundo
Rastros de Mentiras, MundoMax
Outstanding Daytime-Program Episode (Spanish-Language)
"La Armonía de su Casa se Rompió" Casos de Familia, Univision
"¿El Marido de mi Padre o yo?" Caso Cerrado, Telemundo
Outstanding Television Interview (Spanish-Language)
"La confesión de Bruce Jenner" Showbiz, CNN en Español
"Entrevista con Claudia Valenzuela y Karolina López" Enfoque, Telemundo
"Lucha por su Identidad" Al Punto, Univision
"Matrimonio Igualitario" Cala, CNN en Español
"Orientación Sexual y Acoso Escolar" Realidades en Contexto, CNN en Español
Outstanding Local Television Interview (Spanish-Language)
"Entrevista con Kael Escobar," Vida Mujer, WGBO-Univision 66 [Chicago]
"Entrevista con Tony Lima, SAVE Dade," Ahora en Nuestra Comunidad, WLTV-Univision 23 [Miami]
"La nueva Transgeneración," Enfoque Los Ángeles, KVEA-Telemundo 52 [Los Ángeles]
"Reacciones al Caso Jenner," A Primera Hora, KMEX-Univision 34 [Los Ángeles]
Outstanding TV Journalism — Newsmagazine (Spanish-Language)
"Abre su Corazón: Entrevista con Patricia Velásquez," Al Rojo Vivo, Telemundo
"Amor que Rompe Barreras," Un Nuevo Día, Telemundo
"En Cuerpo Ajeno," Aquí y Ahora, Univision
"ReveladoraHhistoria: entrevista con Patricia Velásquez," Un Nuevo Día, Telemundo
"Viviendo con dos mamás," Primer Impacto, Univision
Outstanding TV-Journalism Segment (Spanish-Language)
"Decisión Histórica en Estados Unidos," Noticiero NTN 24, NTN
"Entrevista con Tamara Adrián," Encuentro, CNN en Español
"Parejas del Mismo Sexo Celebran la Legalización del Matrimonio Entre Personas del Mismo Sexo en Todo el País," CNN en Español
"Permiten Matrimonios," Noticiero Telemundo, Telemundo
"Víctimas de Abusos," Noticiero Univision, Univision
Outstanding Local-TV Journalism (Spanish-Language)
"Aprendió a Vivir en Plenitud con el Virus del VIH," Noticias Arizona, KTVW-Univision 33 [Phoenix]
"Cada 29 Horas," Noticias 19, KUVS-Univision 19 [Sacramento]
"Decidí ser Feliz," Noticias 34, KMEX-Univision 34 [Los Ángeles]
"Descubriéndose," Noticiero Telemundo, KVEA-Telemundo 52 [Los Ángeles]
"Reporte Especial," Noticias 14, KDTV-Univision 14 [San Francisco]
Outstanding Newspaper Article (Spanish-Language)
"La constitucionalidad del matrimonio gay en EE.UU. queda en suspenso" por Selene Rivera, Hoy Los Ángeles
"Iguales bajo la lluvia" por Marcos B Guzmán Rivera (El Nuevo Día), El Nuevo Día
"Indocumentados y gays: Un romance con desafíos" por Laura Wides-Muñoz, Prensa Asociada
"Mujeres transgénero piden respeto a sus derechos" por Jorge Morales Almada, La Opinión
"Padres transgénero - El único requisito para ser papá es el amor por los hijos" por Virginia Gaglianone, La Opinión
Outstanding Digital-Journalism Article (Spanish-Language)
"Bruce Jenner o el nuevo rostro de las personas transgénero en los medios" por José Ángel Gonzalo, Univision.com
"Inquietud en la comunidad transgénero ante el incremento de asesinatos" por Juan Carlos Gomi, Efe.com
"Mujeres transgénero latinas exigen fin de violencia física contra colectivo" por Aitana Vargas, Efe.com
"Perú: violaciones correctivas: El terrible método para 'curar' a las lesbianas" por Leire Ventas, BBCMundo.com
"Soy Jazz retrata la vida de una niña transgénero de 14 años" por Marinés Arroyo, HuffingtonPostVoces.com
Outstanding Digital Journalism — Multimedia (Spanish-Language)
"Así reciben la legalización del matrimonio gay en Florida" por Hirania Luzardo, HuffingtonPostVoces.com
"Caitlyn Jenner quiere ser legalmente reconocida como mujer" por Isis Sauceda, peopleenespañol.com
"Campeones de la igualdad," Univision.com
"Undocuqueer, dos palabras, un tema" por Joanna Rentería, HoyLosAngeles.com
"Voy a ser mamá, mi novio está embarazado" por Andrés López, CNNespanol.CNN.com
Outstanding Music Artist (Spanish-Language)
Ricky Martin