Here Is a Photo From Sunday Night's Friends Almost-Reunion (and If You Let Your Eyes Blur, Simon Helberg Sort of Looks Like Matthew Perry)
At NBC's James Burrows Special.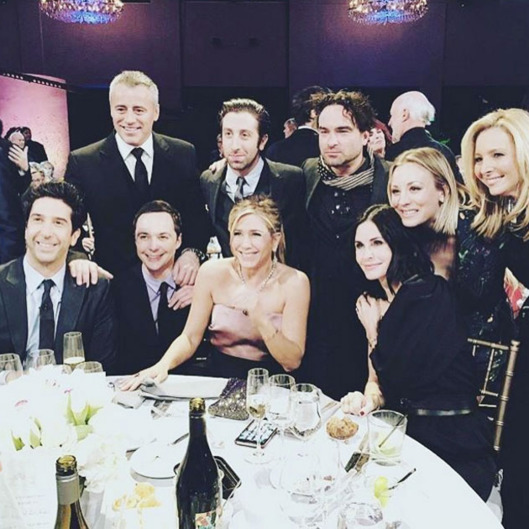 Feast your eyes on Kaley Cuoco's Instagram from this weekend — our oft–dreamed of Friends reunion is made flesh! Almost! The only one missing was Matthew Perry, who was stuck in London and, if you sort of relax your eyes, could honestly still be in the photo if you believe hard enough. Try it. It's like doing a Magic Eye, but instead of a little ship or a dolphin, it's Ms. Chanandler Bong. Most of the Friends cast hung out with a large part of The Big Bang Theory during the filming of NBC's Must-See TV: A Tribute to James Burrows, a celebration of longtime TV-comedy director James Burrows, which taped this Sunday. NBC will air the two-hour special February 21 to coincide with Burrows's 1,000th episode, this time for NBC's Crowded.  Megan Mullally, Eric McCormack, and Sean Hayes also snapped a Will & Grace reunion pic sans Debra Messing, though, for all we know, she is that woman standing in the very left corner and no one can tell me any differently.