Singer Clarence Reid, a.k.a. the Explicit Rapping Parodist Blowfly, Dead at 76
He had suffered from terminal cancer and organ failure.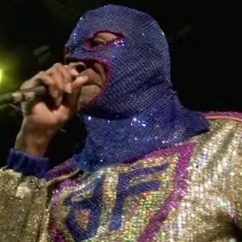 Clarence Reid, the singer turned rapping parodist who had a hand in hip-hop's evolution as the genre's weird, foul-mouthed uncle, died Sunday, according to updates across his social-media accounts. The 76-year-old was last week admitted to hospice care because he suffered from terminal liver cancer and multiple organ failure. "Clarence Reid, the genius known both by his given name and as Blowfly, the Master of Class, passed peacefully today, January 17th, in his hospice room," read a Facebook status written by one of his longtime collaborators. "Thank you for supporting Clarence's 50 + year music career — especially these last few years." Reid's musical career began in the '60s as an R&B singer-producer-songwriter, building a body of his own work and penning hits for other artists such as Betty Wright, KC and the Sunshine Band, and Gwen McCrae. It wouldn't be until the '70s that Reid unveiled his vulgar alter ego Blowfly, formally on 1973's The Weird World of Blowfly.
The persona was characterized by glitzy superhero costumes, a proclivity toward blue humor, and a self-professed "porno funk" sound. With tireless dedication to releasing new material, as well as performing, the Blowfly act became a thing of major legend and influence, one often cited as laying the groundwork for hip-hop. ("R.I.P. Clarence Reid," Snoop Dogg tweeted Sunday, after the news broke. "Aka. BLOWFLY the 1st gangster rapper.") The Georgia-born musician of many hats recently had his ascent to infamy chronicled in 2011's Weird World of Blowfly doc, directed by Jonathan Furmanski. As the masked artist, Reid spent more than 40 years putting out 26 albums and counting (so far 23 more than he did under his real name), notching such popular numbers as "Shitting on the Dock of the Bay," "Shake Your Ass," and "Rap Dirty," among many, many others. Reid has one more Blowfly record, 77 Rusty Trombones, slated to come out posthumously next month. Further information about upcoming services and tribute performances will be noted on Reid's Facebook page.