Brixton Celebrates David Bowie With Massive Sing-along
Fans have gathered at Bowie's hometown mural for a street party.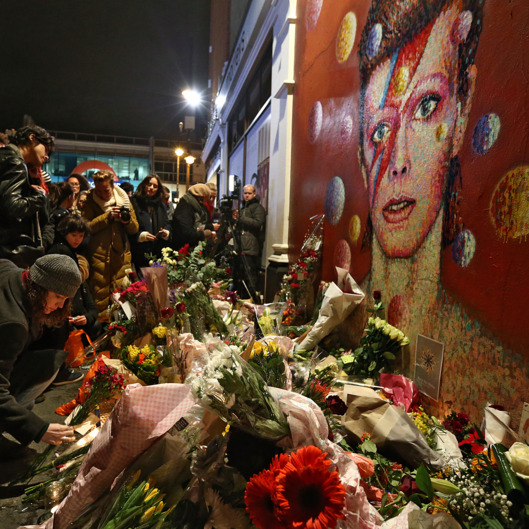 Fans have been flocking to David Bowie's mural in his hometown of Brixton a day after learning of Bowie's death, leaving all sorts of tokens to honor their local hero. But as night fell, the eulogy for Bowie appeared to turn into a celebration of his life and music. The BBC reports that one fan with a guitar led a mass sing-along of Bowie hits like "Starman," "Changes," and "Life on Mars." Brixton's Ritzy cinema (where the mural is located) reportedly put out a call on social media to have a street party (a nod to Bowie's famous song with Mick Jagger) outside their theater to pay tribute to Bowie, putting the words "Our Brixton boy" on its marquee.
Here's what the scene looked like earlier:
People in Brixton are currently singing Starman by David Bowie, paying tributes and remembering him. #RIPDavidBowie pic.twitter.com/GNhLF6zQcF

— Shady Music Facts (@musicnews_shade) January 11, 2016
Life on Mars... #Bowie #Brixton pic.twitter.com/7snLv3EOL5

— Mark Chapman (@markbfc) January 11, 2016
Let's dance! #Brixton #Bowie pic.twitter.com/nMXRK6GavG

— Mark Chapman (@markbfc) January 11, 2016
Thousands gather in Brixton to pay tribute to David Bowie, @DavidSillitoBBC reports https://t.co/YWBFcf4arX https://t.co/NTNEvqAdbb

— BBC News (UK) (@BBCNews) January 11, 2016