Browse the Backstage Hamilton Cutout That Celebrities Sign When They See the Show
Danny DeVito, all class.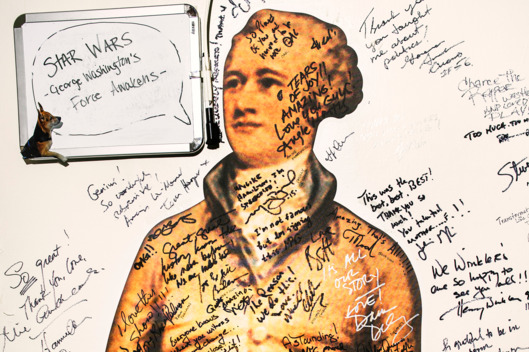 January 11 is Alexander Hamilton's birthday. In lieu of a 261-candled cake, we're celebrating with a weeklong package that explores the production and significance of the Founding Father's eponymous Broadway musical.
Sure, Instagramming a Hamilton Playbill is cool, but you're not a real mover and shaker unless you've gotten the chance to go backstage and leave your John Hancock (a guy who's not in Hamilton). Back behind stage right of the Richard Rodgers Theater, just down a few stairs, is a nearly-life-size image of Alexander Hamilton affixed to the wall; basically, it's a Federalist Fathead. Any fancy people who attend the show are invited to come back and write a brief pleasantry. Below, you can see a selection of those who have — with, as far as we can decipher, what it is they wrote.