Oscars Chiefs Respond to Backlash Over Rule Changes: 'It's Not About Political Correctness'
Academy president Cheryl Boone Isaacs and CEO Dawn Hudson shut down claims of ageism.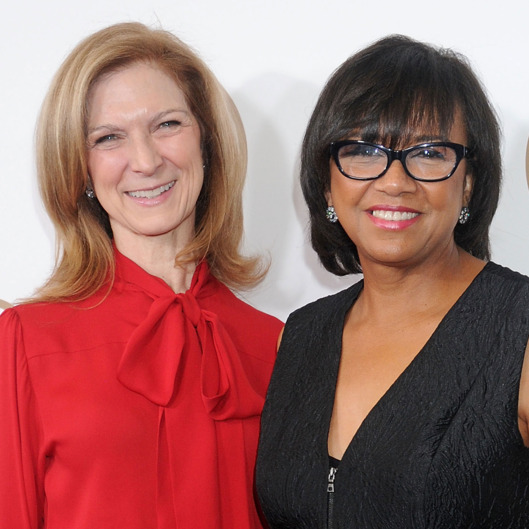 With the Academy of Motion Picture Arts and Sciences set to diversify the face of its membership over the next four years in one of the biggest overhauls in the institution's 88-year history, the pushback has already begun. Animal House's Stephen Furst has written an op-ed calling the new rule changes — which terminate an Academy member's voting rights after ten years of inactivity — ageist. Meanwhile, Oscar nominee Charlotte Rampling has walked back her controversial comments that this year's Oscar boycott is "racist to white people." Now, Academy president Cheryl Boone Isaacs and CEO Dawn Hudson are speaking out for the first time since the Oscar changes were announced, in a long interview with The Hollywood Reporter, to further explain the changes and defend their purpose.
On claims of ageism, Hudson says the point isn't to punish older members but to weed out members who no longer participate in the industry. "They have been selected as members of the Academy, they were working in the film industry at that time, at one point in their careers, and they've moved on to a completely different field, completely different careers, and yet, because we have lifetime membership and lifetime voting rights, they are still voting on what is the best in contemporary film culture. And that's not even what our original charter said. So we are really going back to the original intention of the Academy, the creation of the Academy."
Hudson calls Rampling's comments a "generational" reaction: "You just have to make sure, as this generation grows older, you're bringing in the best of the best of the next generation, and sometimes there is a lag and sometimes there's not as much reaching out into the next generation." Both Hudson and Issacs say the changes, while accelerated by the outrage over the all-white acting nominations, date well beyond the recent cries for diversity. "It's not about political correctness, it's about building the best team, the best institution, the best artists," Hudson explains. "Because unless you have the best artists as members, unless you have the best artists voting on the Academy Awards, you don't have a real reflection of the best of our film culture. We're not talking about [just these] nominations. The nominations we can't control."
They also say they've had the full support of Disney CEO Bob Iger as well as ABC — which has broadcast the Oscars for 40 years — and have no plans to censor this year's host, Chris Rock, or ask him to step down. "We've always known he was gonna go there, right? This is Chris. We know who he is. He is a brilliant, brilliant, observant comedian and performer, and he is a brilliant host. And yes, we want him to [go there]," Isaacs says. To that point, Isaacs and Hudson say that, should Spike Lee and the Smiths change their minds about not attending this year's Oscars, they'd be welcomed "with open arms."