Despite a Strong Showing From The Revenant, The Force Awakens Tops the Weekend Box Office Once Again
Making for a fourth straight weekend on top.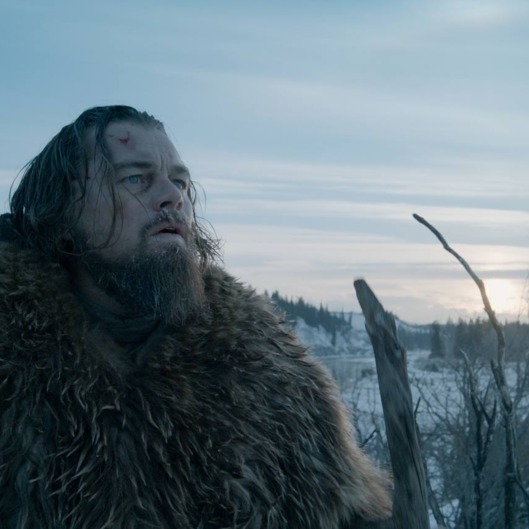 People must be really behind Leo's Oscar push, because The Revenant has emerged as a strong contender at the box office, earning $38 million at the domestic box office after opening wide this week (and skyrocketing its cumulative total up to $39 million). The western revenge flick just barely fell to reigning box-office champion The Force Awakens, which posted a grand total of $41 million (for a $812 million domestic total). On Friday, The Revenant actually earned more than the seventh Star Wars installment with an estimated $14.4 million compared to The Force Awakens's $10.8 million, but Wars still won the weekend. Will Ferrell and Mark Wahlberg's Daddy's Home took third place with $15 million (and a $116,313,576 total gross), while newcomer The Forest took fourth with just under $13.1 million. Sisters rounded out the top five with just under $7.2 million (bringing it to $74.9 million), while Quentin Tarantino's The Hateful Eight took a big fall to sixth place with a weekend total just under $6.4 million (and a $41.5 million total gross).
The Force Awakens had even greater success in China, making $52.6 million in its first weekend and setting the record for the biggest Saturday/Sunday debut in the country of all time. This success comes after many had wondered whether a Star Wars film would be a hit in China, especially considering the fact that, when the Star Wars films first opened in America, China was in the grips of a the Cultural Revolution. It took several years for the original trilogy to reach the country, while the prequels never quite found a Chinese audience when they opened there the early 2000s. Despite that lack of familiarity, this weekend is proof that Disney has succeeded with its slow-burn marketing plan, maybe because BB-8 needs no introduction. A big opening in the Middle Kingdom brings The Force Awakens to a total foreign gross of $921.4 million and a worldwide total of $1.733 billion.