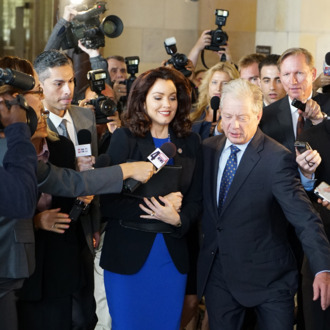 Mellie will not be taking questions at this time.
A lot went down when we last left Scandal, but, most importantly, we learned that Mellie was considering a presidential bid. Well, good news for anyone who wants a few more pearls and icy stares in the Oval Office, as it seems that we'll see that race earlier rather than later. According to Tony Goldwyn, who plays Fitz and spoke to The Hollywood Reporter, the series will jump six months into the future when it returns February 11 and Mellie will be campaigning for our nation's highest office. "The show, overall, everybody is pushing in a new direction," Goldwyn said, noting that Shonda Rhimes is "drawing inspiration" from the current political climate. "Olivia is in a very strange and interesting place. And Mellie is running for president. What we're getting into now is the trajectory of the campaign is heating up."
Goldwyn also revealed that Fitz will still be at odds with Mellie, though "they're trying to co-parent," with Olivia. "It's very difficult for him to be alone," the actor said, "He's leaning very heavily on Abby and really focusing on work." Susan Ross, loose cannon that she is, is also considering a run for president, and there will be a few "surprising" new fresh faces in the campaign. Poor old Fitz, meanwhile, is living out the end of his lame-duck term, soon to leave office for good. Though, according to Goldwyn, that might not be the end of Fitz's role on Scandal — Shonda Rhimes could have all sorts of ideas up her sleeve. "We're just starting, we're not even in the primary campaign yet," Goldwyn said, "My assumption is that [the election] won't be done this season. So I'm assuming through next season, there will be a new president of the United States on Scandal. Beyond that, I don't know. We'll see!"
So basically, season seven, if it happens, will follow the scandals surrounding the now-retired Fitz's jam business in Vermont. You heard it here first.