Could This Exclusive Sing Street Song Be Oscar-Nominated Next Year?
Watch this clip from the irresistible new musical film from director John Carney (<em>Once</em>).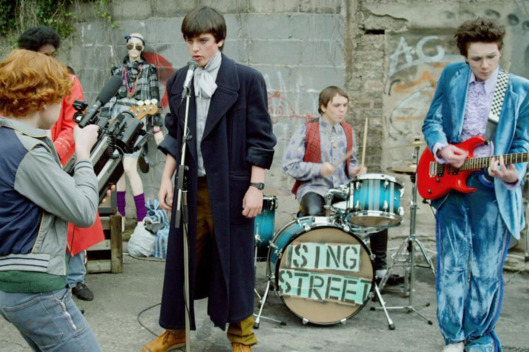 This year's Oscar lineup for Best Original Song has inspired no shortage of drama: The Lady Gaga song "Til It Happens to You" is competing against a smash hit from the Weeknd and a high-profile James Bond theme from Sam Smith, while nominated singer Anohni has been controversially deprived of a chance to perform on the broadcast. But jump, for a moment, to next year's Oscar telecast: What sorts of songs do we expect to see recognized then? There are still a few high-profile contenders yet to come (who isn't curious about what we'll hear in the Emma Stone–Ryan Gosling musical La La Land?), but one new movie arrives April 15 that's almost sure to find its tunes nominated: Sing Street, the Sundance Film Festival smash from director John Carney.
Carney's first film, the Ireland-set romance Once, actually won the Best Original Song trophy in 2007 for its classic duet "Falling Slowly"; last year, Carney's follow-up Begin Again scored another nomination with the song "Lost Stars." With that sort of pedigree, you can expect big things from Carney's utterly delightful Sing Street, a semi-autobiographical musical set in 1980s Dublin where bullied teen Conor (Ferdia Walsh-Peelo) puts together a band in order to impress the enigmatic, older Raphina (Lucy Boynton). In no time, she's art-directing and co-starring in the band's low-fi music videos (she even gives Conor the much cooler rock-star name "Cosmo"), and in the exclusive clip below, you can watch as Raphina ups the dramatic ante on Conor's video shoot by flinging herself into the ocean even though she knows she can't swim. The sweet song the band is playing is called "Beautiful Sea," and underneath the exclusive clip, we've got another treat for you: Walsh-Peelo and his co-star Mark McKenna performing that tender acoustic tune last month at Sundance. (Raphina would approve: They look much cooler and more mature.) Enjoy!