Grease: Live Soars in the Ratings, Beating NBC's Past Two Musicals
A systematic, hydromatic, <em>ultramatic</em> 12.2 million same-day viewers.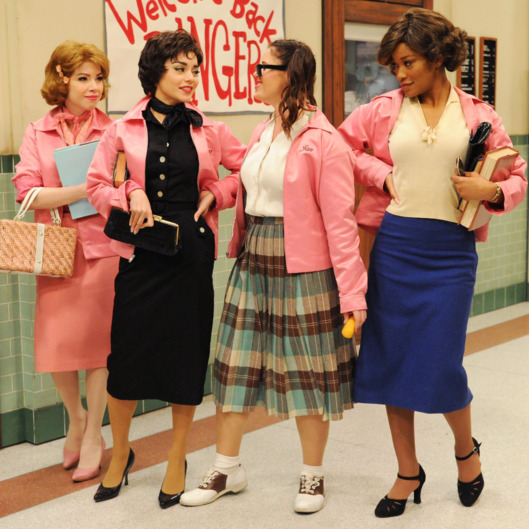 The ratings for Grease: Live are in, and Fox execs could be forgiven for busting out the hand jive this morning. Sunday's spectacular small-screen reinvention of the 1978 movie (which itself was based on the Broadway musical) averaged a systematic, hydromatic, ultramatic 12.2 million same-day viewers, according to preliminary Nielsen data. More impressive, the three-hour telecast was easily the one Fox's desired demographic wanted, averaging a 4.3 rating among adults under 50 (and a massive 5.6 rating with women under 50). In addition to dominating everything else on TV Sunday — beating ABC, CBS, and NBC combined by nearly 50 percent in the key demo — Grease: Live outranked both of NBC's past two live musicals (The Wiz and Peter Pan) among both viewers and adults under 50, and came very close to matching the demo results for the Peacock's first modern musical, The Sound of Music (4.6 rating). More important, what both NBC and now Fox have demonstrated is that, even in the era of on demand and binge-viewing, audiences will still flock to old-fashioned linear television for the right kind of programming. Network TV: It's still the one that you want, America!