Here Are the 2016 BAFTA Winners
You'll never guess who won.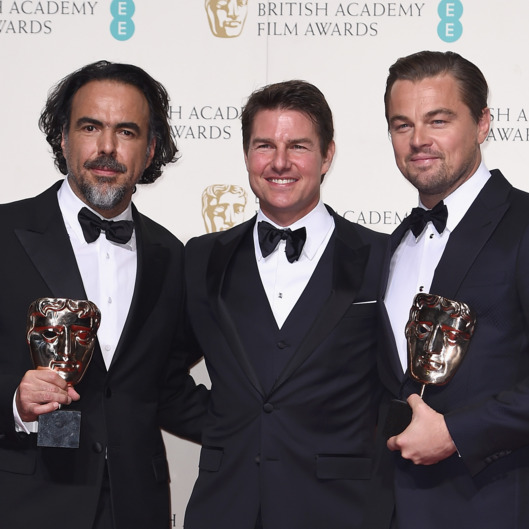 The BAFTAs are akin to the Academy Awards, except they are British, and have several categories that are different (such as seperating films that are British from films that are not). Some of the winners were surprises, some were expected. Here are the winners of the 2016 BAFTAs.
Outstanding British Film
45 Years
Amy 
Brooklyn
The Danish Girl
Ex Machina
The Lobster
Best Makeup and Hair
Brooklyn
Carol
The Danish Girl
Mad Max: Fury Road
The Revenant
Best Cinematography
Bridge of Spies
Carol
Mad Max: Fury Road
The Revenant
Sicario
Best Documentary
Amy
Cartel Land
He Named Me Malala
Listen to Me Marlon
Sherpa
Best Original Music
Bridge of Spies
The Hateful Eight
The Revenant
Sicario
Star Wars: The Force Awakens
Best British Short Film
Elephant 
Mining Poems or Odes
Operator
Over 
Samuel-613
Best British Short Animation
Edmond
Manoman
Prologue
Best Editing
The Big Short 
Bridge of Spies
Mad Max: Fury Road
The Martian
The Revenant
Best Sound
Bridge of Spies
Mad Max: Fury Road
The Martian
The Revenant
Star Wars: The Force Awakens
Best Special Visual Effects
Ant-Man
Ex Machina
Mad Max: Fury Road
The Martian
Star Wars: The Force Awakens
EE Rising Star (voted for by the public)
Bel Powley
Brie Larson
Dakota Johnson
John Boyega
Taron Egerton
Best Supporting Actor
Benicio del Toro – Sicario
Christian Bale – The Big Short
Idris Elba – Beasts of No Nation
Mark Ruffalo – Spotlight
Mark Rylance – Bridge of Spies
Best Animated Film
Inside Out
Minions
Shaun the Sheep the Movie
Best Supporting Actress
Alicia Vikander – Ex Machina
Jennifer Jason Leigh – The Hateful Eight
Julie Walters – Brooklyn
Kate Winslet – Steve Jobs
Rooney Mara – Carol
Best Costume Design
Brooklyn
Carol
Cinderella
The Danish Girl
Mad Max: Fury Road
Outstanding Debut by a British Writer, Director or Producer
Alex Garland (director, Ex Machina)
Debbie Tucker Green (writer/director, Second Coming)
Naji Abu Nowar (writer/director, Theeb), Rupert Lloyd (producer, Theeb)
Sean McAllister (director/producer, A Syrian Love Story), Elhum Shakerifar (producer, A Syrian Love Story)
Stephen Fingleton (writer/director, The Survivalist)
Best Adapted Screenplay
The Big Short 
Brooklyn
Carol 
Room
Steve Jobs
Outstanding British Contribution to Cinema
Angels Costumes
Best Original Screenplay
Bridge of Spies
Ex Machina
The Hateful Eight
Inside Out
Spotlight
Best Film Not in the English Language
The Assassin
Force Majeure
Theeb 
Timbuktu
Wild Tales
Best Production Design
Bridge of Spies
Carol
Mad Max: Fury Road
The Martian
Star Wars: The Force Awakens
Fellowship Recipient
Sidney Poitier
Best Director
Adam McKay – The Big Short 
Steven Spielberg – Bridge of Spies
Todd Haynes – Carol
Ridley Scott – The Martian
Alejandro González Iñárritu – The Revenant
Best Actress
Alicia Vikander – The Danish Girl
Brie Larson – Room
Cate Blanchett – Carol
Maggie Smith – The Lady in the Van
Saoirse Ronan – Brooklyn
Best Actor
Bryan Cranston – Trumbo
Eddie Redmayne – The Danish Girl
Leonardo DiCaprio – The Revenant
Matt Damon – The Martian
Michael Fassbender – Steve Jobs
Best Film
The Big Short 
Bridge of Spies
Carol
The Revenant
Spotlight