All the Ways 20 Comedians Make Money in NYC and L.A.
From podcasts to web series to branded content.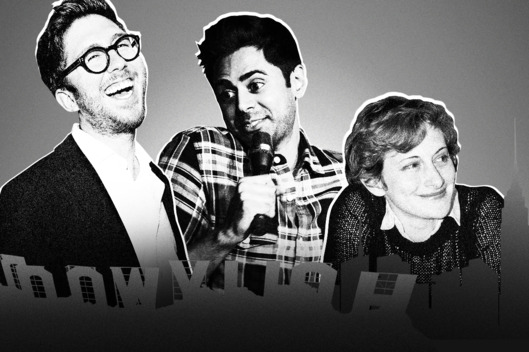 This week Vulture is running a series of stories about the comedy produced in, and inspired by, New York and Los Angeles. Here we take a look at the many income streams available to modern comedians.
During the comedy boom of the 1980s, there was a simplicity to comedians' income: Comedy clubs around the country paid handsomely for a weekend of shows; networks were paid even more handsomely for sitcom pilots. Now, as media has fractured across platforms, the ways in which comedians make money have similarly become fragmented. The majority of comics, of all levels, are working on a variety of projects in all kinds of mediums to make sure the lights stay on.
To get a picture of what that looked like, Vulture asked comics in New York and Los Angeles to break down how they made their living. We didn't ask anyone how much they made, but what percentage came from each of their various activities. Though our participants range from established performers to up-and-comers, the one thing that's consistent is how inconsistent each is from the others.
Below you will see a series of bar graphs, each representing the sum total of a comedian's income. Some things to note: These are all estimates. With "TV Guest Spots," we are including one-off sitcom appearances and appearances on non-narrative shows, such as @midnight. "TV Producing" refers to anything in the process of developing a TV show, from selling a pilot script to producing your own show that's on the air. "Film Development" is anything in the process of working on a movie script. And lastly, if you hover over each name, you'll get a short bio for that person.
This is not meant to be representative of either scene, nor was it a survey conducted at all scientifically. It's just a snapshot of some comedians we like and how they pay the bills.
Comedian Income Breakdown
Live Performance

TV Roles

TV Guest Spots

Movie Roles

TV Staff Writing

TV Producing

TV (Other)

Film Development

Film (Other)

Podcasting

Radio

Web Video

Other Writing

Other Acting

Commercial Acting

Album Revenue

Stand-up Specials

Teaching

Day Job

Anything else
Hasan Minhaj

NYC
A correspondent for The Daily Show, and his one-man show just finished its Off Broadway run.
Jonah Ray

LA
A stand-up comic who co-hosts Comedy Central's The Meltdown With Jonah and Kumail and the upcoming Mystery Science 3000 reboot.
Rick Andrews

NYC
An improviser and teacher at the Magnet Theater, where he performs weekly.
Rebecca Drysdale

LA
A former writer for Key & Peele, she founded the indie improv theater the Clubhouse.
Brett Davis

NYC
The winner of last year's Andy Kaufman Award, he hosts The Special Without Brett Davis on Manhattan Neighborhood Network.
Joe DeRosa

LA
A touring stand-up who has recently written for Wet Hot American Summer: First Day of Camp and appeared on Better Call Saul.
Jim Tews

NYC
A stand-up comedian who recently turned his blog, Felines of New York, into a New York Times best-selling book.
Matt Besser

LA
One of the founder the Upright Citizens Brigade troupe and theaters, he currently hosts the Earwolf podcast Improv4humans and produces The UCB Show.
Myq Kaplan

NYC
A stand-up comedian who hosts the podcast Hang Out With Me.
Amir Blumenfeld

LA
After becoming one of College Humor's breakout stars with his web series Jake and Amir, he co-founded the Head Gum podcast network.
Jo Firestone

NYC
A comedian and host of several live shows in New York City, including Punderdome 3000. She also hosts the radio show "Dr. Gameshow."
Ian Karmel

LA
A writer and stand-up who currently writes for The Late Late Show.
Aparna Nancherla

NYC
A stand-up and writer for Late Night With Seth Meyers.
Joel Kim Booster

NYC
Joel Kim Booster is a stand-up comedian and writer in New York City.
Emily Maya Mills

LA
An actress and comedian who has appeared on Orange Is the New Black and Agents of S.H.I.E.L.D.
Jonathan Braylock

NYC
An actor, podcaster, and performer at the UCB Theatre. Credits include The Jim Gaffigan Show and The Amazing Spider-Man 2.
Adam Newman

LA
A touring stand-up comedian who performed on The Late Show With David Letterman.
Dan Soder

NYC
A touring stand-up and SiriusXM show co-host who currently appears on the Showtime series Billions.
Byron Bowers

LA
Byron Bowers is a touring stand-up comic who recently wrote for FXX's Lucas Bros. Moving Co.
Kevin McCaffrey

NYC
A touring stand-up who's currently the head writer for MTV's upcoming Bugging Out.