Jackie Chan Forgot to Tell Tourists He Was Blowing Up a Bus in London
It was for his upcoming film.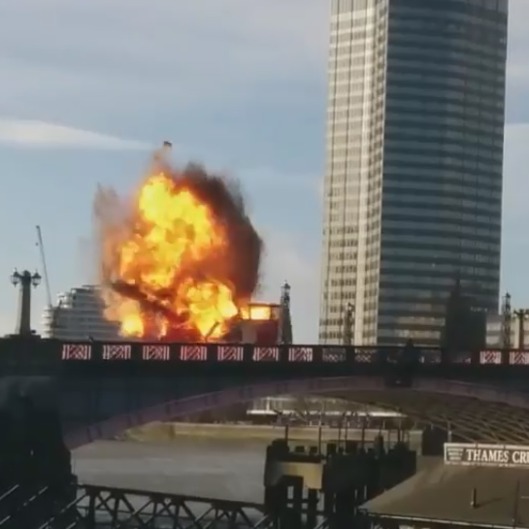 On Sunday morning a bus exploded in London. It went up in a great whorl of flame on the Lambeth Bridge, its smoldering wreckage flung into the Thames below. Tourists and Londoners who live near the bridge were, of course, in a panic. Thankfully, the explosion was just a stunt for Jackie Chan's upcoming film The Foreigner, co-starring Pierce Brosnan. (Given that the movie is being filmed in London, Chan is presumably the titular expat.) People took to Twitter to voice their frustration that they were not given enough warning about the planned explosion, though others were quick to point out that, yes, they were given ample warning, in the form of signs and fliers and bright orange cones.
Hey film types next time you blow up a bus on Lambeth Bridge maybe tell us first so children in park aren't freaked? pic.twitter.com/8Ui6YoE9N0

— Sophie Kinsella (@KinsellaSophie) February 7, 2016
Anyone worried about the exploding bus on Lambeth Bridge just now? It was just for a movie. pic.twitter.com/1ypWZZ6jPp

— Nigel Huddleston MP (@HuddlestonNigel) February 7, 2016
Lambeth Bridge shut for filming tomorrow morning. Beware of controlled explosions! pic.twitter.com/TKz8xuatdO

— London SE1 (@se1) February 6, 2016
@Jennifalconer It's for a film called The Foreigner. pic.twitter.com/mzrwRuzWrt

— Michael Henderson (@GadgetMichael) February 7, 2016