How 30 Rock's Classic Leap Day Episode Came to Be
Happy Merlinpeen!
In honor of Leap Day, we asked 30 Rock showrunner Robert Carlock to tell us how the classic season-six episode "Leap Day" came to be. Happy Merlinpeen!
This was one of my favorite episodes to be involved in. I didn't write the original draft, but I was there as the writers were breaking it. It came at a difficult point in the year when we were kind of behind, and the room had just been talking about this silly thing: "What if we made a big deal out of Leap Day?" At 30 Rock, it's a pretty elastic universe. You never knew exactly when it would break, when Tina would tell me it was too crazy, or I would tell the writers it was too crazy. I remember there was a kind of nervousness — the writers weren't sure — but I loved it so much immediately. And once I was onboard, I had to sell Tina on it — not by manipulation, just by presenting the idea and tap dancing as hard as I could. And she was totally onboard. Maybe a small eye roll.
We were always creating a universe that was a little sideways, a little parallel to the one we experience every day. I remember this being one of the easiest episodes to break ever, because we realized it was a whole buffet of stuff the audience already knows. Suddenly, you're handed everything associated with any holiday, and you get to recast it. "Oh, great, we'll do a Scrooge conceit." "We'll go to a Leap Day party." "We'll write songs." "We'll come up with traditions." You just saw the whole thing immediately, even though I think we were telling four full stories in it. The hardest part was the three-line exchange explaining how this had never been discussed before, why it was such a big deal, and why Liz Lemon didn't know about it when we saw her four years ago during the previous Leap Day.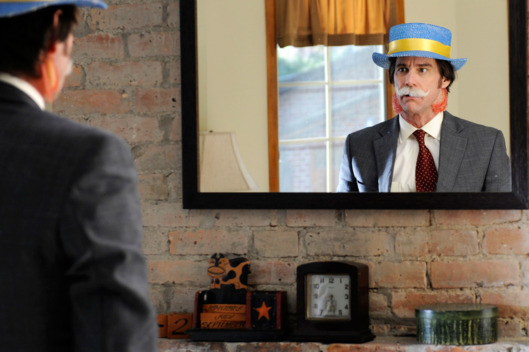 We shot that Jim Carrey movie in the body of it because we were like, "There has to be a movie about Leap Day." Jim had a ton of ideas we tried to incorporate. There was that shot of him running down the sidewalk, and it was like the end-of-movie moment — "I was very connected with my son and I solved the court case from earlier!" — and he's tearing his clothes off. That was not scripted, but it was wonderful. I wish it happened in my life more. And of course, having Alec running around New York crying, "Happy Leap Day!" like it's the end of It's a Wonderful Life. It was one of those episodes full of moments where I was like… "I can't believe they're letting us do this. Someone's paying for this to happen."