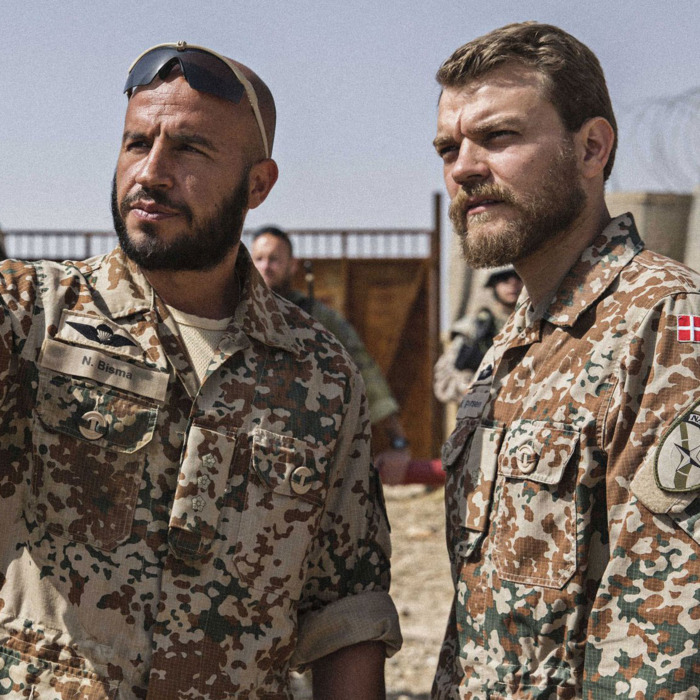 Tobias Lindholm's A War is an upending morality play centering on Danish soldiers in Afghanistan, where their country (a member of the NATO alliance) has had a strong military presence since 2002. Who knew? The Danes, I guess, who can't be too happy that they're still having to pay for the Bush-Cheney administration's cock-ups in the early days of the invasion. In the movie, they don't seem too plugged into Afghan culture. The protagonist, Claus Pedersen (Pilou Asbaek), is a commander who commits, depending on your perspective, a tragic mistake or a war crime — or both.
Pedersen's squad is based in rural Afghanistan and charged with protecting civilians from assaults by the Taliban. He's an unusually hands-on commander, embarking on patrols with his men even when he could stay on the base. He's there when one of his company steps on an IED, loses part of a limb, and bleeds out in agony. Later, a traumatized soldier named Lasse begs to leave, but Pedersen tells him — gently but firmly — that he can't return to Denmark. Pedersen has to tell his own wife (Tuva Novotny) as much when she begs him to come home, saying their three sons need him. One boy is acting out toward other kids. The littlest one eats something he shouldn't and is rushed to the hospital.
Pedersen is similarly firm when an Afghan man and his family risk their lives when they show up at the gates of the base and beg to be taken in. Earlier, the man's young daughter had received medical treatment from the Danes for an infection, and he's convinced the Taliban will retaliate by killing him, his wife, and his children. Pedersen won't be swayed, though, even when a fellow officer, a woman, gazes at him, appalled. Regulations are regulations.
I won't spell out what happens next, but it's a worst-case scenario on many fronts — an attack from all directions in a civilian sector by Taliban soldiers whom the Danes can't even see much less count. Lindholm's camera techniques — ultra-subjective, hand-held jitters and swerves — don't seem fresh anymore, but his situation is novel, and crazy-making. That traumatized soldier he forced to stay is horribly wounded, and there's no way a Medevac helicopter can land without information about the enemy's location that Pedersen doesn't have. Every choice is potentially disastrous. So-called "elementary rules of engagement" don't seem so elementary anymore.
The last third of A War — set in Pedersen's house and then a Danish courtroom — is in a different style than what has preceded it. It's plain, prosaic, legalistic — a different movie. But, of course, the film's two pieces are not meant to fit together. Pedersen's lawyer, as well as the soldiers under his command, ask how people can pass judgment when they weren't there, under fire. If it's difficult to dismiss the fierce moral outrage of Pedersen's female prosecutor, it's almost impossible to root for a conviction. In both cases, humanity loses. But then, it has lost already.
I fear I'm making Lindholm seem more morally relativist than he is. Art is said to be "the politics of the impossible," so he's not required to pass sentence, to say whether he thinks Claus Pedersen deserves shame and prison and the designation of "war criminal." What he is saying is that the man was out of his depth and that most if not all of us would be, too. That strikes me as an implicit condemnation of this particular occupation — even though, in interviews, Lindholm has insisted he's taking no stand on the Western presence in Afghanistan. Maybe he really believes he's not. In his other films — especially The Hunt, starring Mads Mikkelson as an unjustly shunned teacher, and A Hijacking, another thriller that comes down to terrible choices and ends on a bitterly tragic note — Lindholm finds a unique balance between social and individual responsibility. There's plenty of blame to go around.
In any case, Pedersen clearly stands condemned in his own eyes. Although there isn't a scene in which he weeps or shares his anguish, Asbaek (who will be seen this year in another psychologically fractured role, Pontius Pilate in the Ben-Hur remake) plays him as frozen in time and unlikely ever to emerge from under his protective shell. A War confirms the darkest, least mentionable secret of traumatized veterans — that what haunts them is not just what they saw and what was done unto them, but what they did.