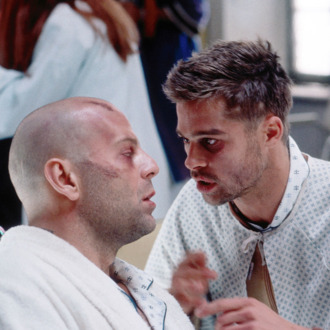 Each month, several films and TV shows leave Showtime's catalogue. We provide a list of titles leaving the platform so you can watch them all before they're gone forever (or just available on a different site). For more comprehensive coverage of the best titles available on Showtime and elsewhere, check out Vulture's What to Stream Now hub, which is updated throughout the month.
Roughly enough for a barrel: Twelve Monkeys (1995)
A high conflict time-travel story with strong actors (Brad Pitt! Bruce Willis!) made on a relatively modest budget, Twelve Monkeys is the kind of risky bet of a film that you rarely see anymore. It's earnest and fun in an especially '90s sort of way, unencumbered by the sprawling seriousness of so many recent big sci-fi movies. Also, Brad Pitt! Leaving March 14.
Sublime: The Diving Bell and the Butterfly (2007)
This inspiring film is based on Jean-Dominique Bauby's memoir about his life after a massive stroke that left him paralyzed nearly everywhere except for his eyes. Director Julian Schnabel turns Bauby's attempts to communicate with the rest of the world — he wrote the book by communicating in blinks — into a celebration of the beauty of that world. Leaving March 15.

If you've ever dreamed about running away from it all: The Station Agent (2003)
Tom McCarthy (the director behind Spotlight) made his first feature by turning his friend Peter Dinklage into a leading man. It's a whimsical tale about a man (Dinklage) who moves to rural New Jersey and befriends a Sundance-ready collection of quirky characters. Bobby Cannavale and Patricia Clarkson fill out the rest of a strong cast. Dinklage says people still tell him how much they loved the film (though they don't usually get the name right). Leaving March 22.
Full list of titles leaving Showtime
Twelve Monkeys (1995) (March 14)
The Diving Bell and the Butterfly (2007) (March 15)
Philomena (2013) (March 21)
The Station Agent (2003) (March 22)
Delivery Man (2013) (March27)
Mandela: Long Walk to Freedom (2013) (March 28)
Captivity (2007) (March 31)
Nacho Libre  (2006) (March 31)
For more details on the best film and television available online, consult Vulture's What to Stream Now hub.