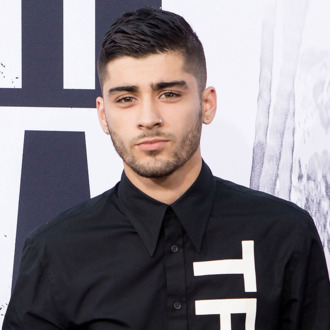 It's his paradise, his war zone.
Is solo Zayn better than One Direction? We won't go there yet. But now we at least have the first inkling that he may be more successful sales-wise: Zayn has officially gone the No. 1 direction with his first solo single, "Pillowtalk," which debuted at the top of this week's Billboard Hot 100. If you've been keeping score, that means he blew past two former No. 1 songs from Justin Bieber ("Love Yourself," now at No. 2, and "Sorry," at No. 3) to get there. Zayn managed to beat Biebs on his own, something his ex-1D bandmates collectively failed to do last year, when they released an album the same day as Bieber. Surprisingly, One Direction have never had a song reach No. 1 in the U.S. ("Best Song Ever" peaked at No. 2), so "Pillowtalk" gives Zayn his first-ever No. 1 song, period.
Naturally, there's a lot more, ahem, history attached to Zayn's milestone than meets the eye. As Billboard points out, he's the first former boy-band member to have his debut single open at No. 1 since George Harrison did with 1970's "My Sweet Lord"/"Isn't It a Pity." (We know what you're thinking, and,yes, the Beatles were most definitely a boy band.)
Zayn's not the only artist with a big first-week outing: Drake's first Views From the 6 single, "Summer Sixteen" (which debuted as an Apple Music exclusive), enters the chart appropriately at No. 6 (get your Illuminati jokes over with now). That's also one position higher than Rihanna's "Work," on which he's featured — so Drake will either let their newly-filmed video put them in No. 1 contention, or perhaps inspired by Zayn, go for it on his own for that solo No. 1 crown.
Speaking of Rihanna, despite those early sounds of the death knell, Anti is far from a flop. As expected, it started out on the chart last week at No. 27 with a disappointing less than 1,000 albums sold due to its shortened eligibility on that week's chart and risky free release. But in its first full week of eligibility, it has debuted on the Billboard 200 at No. 1 (her second No. 1 album) with 166,000 albums sold. And that's how you work, work, work.