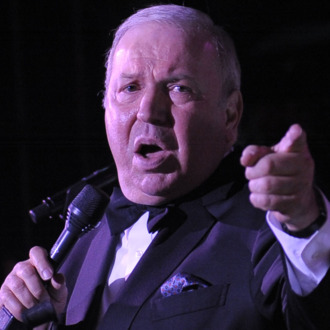 Frank Sinatra Jr., the singer who upheld his father's legacy with a wide-ranging career of his own, died Wednesday in Daytona Beach, Florida. Sinatra's family broke the news on Facebook, explaining the 72-year-old suffered unexpected cardiac arrest while on tour there. Other details were not immediately available. "I always admired Frank Sinatra Jr.," Larry King, who famously interviewed the elder Sinatra, tweeted. "He was born with a hard name to live up to, but I loved his talent and his ability to be forthright."
The New Jersey native originally wanted to pursue piano performance and composition. But as he — the only son of Frank Sinatra and Nancy Barbato — quickly learned, singing would be his best chance at landing consistent work in entertainment. Sinatra began as a novelty act (the "Jr." was reportedly part of a stage name) with members of the Tommy Dorsey band, at the end of his teen years. It was "total exploitation," he told the UK's Express, but it propelled him into a five-decade showbiz career, punctuated by a strange-but-memorable kidnapping incident, a slew of TV appearances, Vegas gigs, big-band work, and collaborations with his father.
Between the '60s and '80s, Sinatra worked to establish himself with four albums (plus an appearance on a family Christmas record); and with turns on The Red Skelton Hour, The Dean Martin Show, and Adam-12, among other series and pics. Though his voice and singing style were similar to his father's, he didn't nab major hits or attain the same hallowed status. In 1988, the elder Sinatra asked his son to step up as his musical director and conductor; Sinatra would do so until his father's last time onstage, in 1995.
After Sinatra Sr. died of a heart attack in 1998, the younger Sinatra began performing tributes and using the latter portion of his career to set the record straight on the mythology surrounding his family. "When the legend becomes bigger than the person, you have lost the person," he explained to Los Angeles last year. "I happen to believe that is a grave mistake." He released his last album, That Face!, in 2006, and also lent his voice to Family Guy during that period. At the time of his death, Sinatra was traveling for "Sinatra Sings Sinatra," a centennial celebration dedicated to his father and his father's music. He's survived by his mother, two sisters, and son.
This story has been updated throughout.