Fusion Orders Cross-Platform Political Comedy Series Trump vs. Bernie, So Not All Your Laughter Has to Be the Hysterical, Despair-Filled Kind
The self-tanner budget alone is going to <em>cripple</em> the network.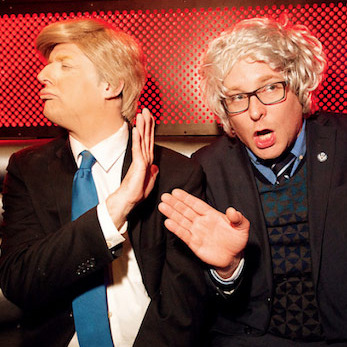 It's like when Nero played violin while Rome burned, but funnier and with better wigs! According to the Wrap, master impressionists Anthony Atamanuik and James Adomian are set to star in Fusion's newly announced multi-platform comedy Trump vs. Bernie. The duo have been touring a Trump-Bernie debate comedy show, which is only slightly more absurd than the actual debates are going to be if they happen in real life. Trump vs. Bernie will consist of a series of web videos on Facebook, YouTube, and FCComedy, including tonight's Facebook livestream about Super Tuesday, along with two on-air sketch specials this spring. Like President Trump will require us by law to say in the new, improved Pledge of Frickin' Allegiance, it's going to be yuuuuge.