Imagine Talking Politics With Abbi and Ilana, Miles Teller, and Kendall Jenner; Soon, You Won't Have to Imagine, If You're Also Attending the White House Correspondents' Dinner
They're some of the many celebs who will attend "Nerd Prom" this year.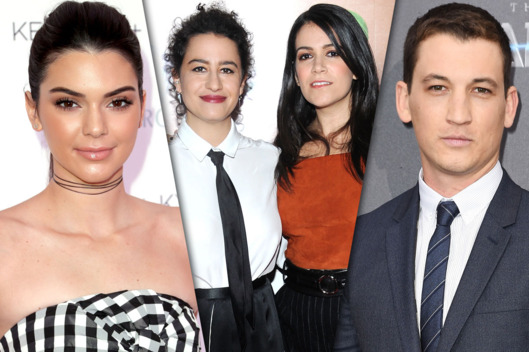 Just imagine: You're all dolled up in your finest, rubbing elbows with all of Washington D.C.'s movers and shakers. Across the table, Abbi and Ilana are debating the best ways to expand abortion access in red states. On your left, Miles Teller is explaining why Nordic-style social democracy wouldn't work in the U.S. And on your right, Kendall Jenner is going on a rant about the terrible labor conditions for workers in the app economy. That dream could be a reality for anyone attending this year's White House Correspondents' Association Dinner, where all four of the aforementioned celebrities — as well as boldfaced names like Rosario Dawson, Michelle Dockery, and Blindspot's Jaimie Alexander — will be guests of various media organizations. Don't have too much FOMO, though: They'll probably just pose for hundreds of selfies, then go home exhausted. One huge celebrity who won't be there? Donald Trump, who tells The Hill he's going to snub the many, many media outlets who invited him; all of them, really. Sad!