Celebrities React on Social Media to the Death of Prince
Shonda Rhimes, Justin Timberlake, Carole King, and more pay their respects.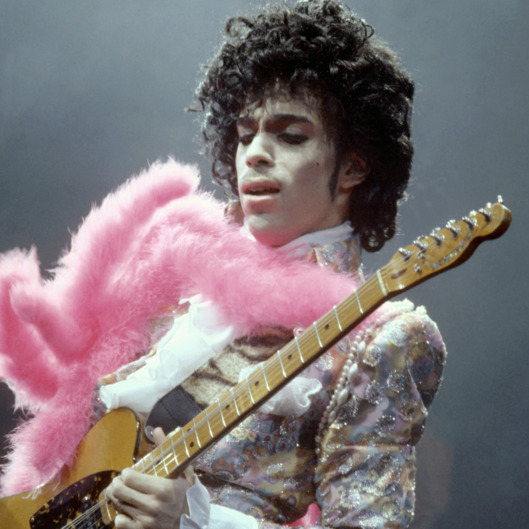 Music legend Prince died Thursday at the age of 57 at his Paisley Park residence. The news was confirmed by his publicist, though the cause of death has yet to be released. Stars quickly took to social media to express their grief and pay their respects to the Purple One, whose music inspired and thrilled so many. Read on for tributes and fond remembrances. 
In a Tumblr post, Frank Ocean* wrote: "My assessment is that he learned early on how little value to assign to someone else's opinion of you..an infectious sentiment that seemed soaked into his clothes, his hair, his walk, his guitar and his primal scream."
In a statement released Thursday afternoon, MTV said: "MTV is heartbroken and in utter disbelief at the news that the world has lost Prince Rogers Nelson so suddenly and so before his time. Prince was a once-in-a-lifetime artist who transcended every medium and genre he touched and created music with a passion and individuality that inspired multiple generations. Our hearts and prayers go out to his family, friends and millions of fans."
I can't. I just can not. #Prince

— shonda rhimes (@shondarhimes) April 21, 2016
Numb. Stunned. This can't be real.

— Justin Timberlake (@jtimberlake) April 21, 2016
"Paint a perfect picture. Bring to life a vision in one's mind. The beautiful ones. Always smash the picture. Always every time." #Prince xo

— Ava DuVernay (@AVAETC) April 21, 2016
And just like that...the world lost a lot of magic ✨ Rest in peace Prince! Thanks for giving us so much...

— KATY PERRY (@katyperry) April 21, 2016
For real though, shouldn't everyone go home from work and school? It's Prince. Its like hearing the Grand Canyon died.

— Adam McKay (@GhostPanther) April 21, 2016
This fucking sucks... Prince on repeat all day. Just like I did with Michael and Whitney 😔

— Demi Lovato (@ddlovato) April 21, 2016
"Dearly beloved
We are gathered here today
2 get through this thing called Life..."
-Prince

— Lin-Manuel Miranda (@Lin_Manuel) April 21, 2016
No no no no no no NO not Prince . He's immortal he's not even human . This can't be right

— SZA (@sza) April 21, 2016
I'm shocked to hear that Prince passed at such a young age. Musically, he could do it all: sing, play, arrange and produce. Love & Mercy

— Brian Wilson (@BrianWilsonLive) April 21, 2016
Lots of guitars gently weeping today #Prince #RIP https://t.co/NLi14Hn1NX

— Kevin Bacon (@kevinbacon) April 21, 2016
All the hallways at BuzzFeed NYC are purple right now pic.twitter.com/qZo0hopDpU

— Matthew Perpetua (@perpetua) April 21, 2016
I can't fucking breathe right now

— Questlove Gomez (@questlove) April 21, 2016
Long Live The King.

— Questlove Gomez (@questlove) April 21, 2016
RIP Prince. There's a lot of sad purple rain falling from our eyes today.

— Larry Wilmore (@larrywilmore) April 21, 2016
Unbelievable just heard about PRINCE. Strength and light to his family/loved ones. One of my favs and a true pioneering artist. RIP brotha.

— Dwayne Johnson (@TheRock) April 21, 2016
I'm so sad we've lost @prince the legend,the master,a musical juggernaut that knew no boundaries.He left indelible footprints in music.😔RIP

— Gloria Estefan (@GloriaEstefan) April 21, 2016
Prince was brilliant and larger than life. What a sad day.

— Ellen DeGeneres (@TheEllenShow) April 21, 2016
The Prince is dead. Long live the Prince.

— Kathy Bates (@MsKathyBates) April 21, 2016
Running out of living musical heroes, those we measure everything against, emulate, know we won't surpass but inspire us to try. #prince

— Carrie Brownstein (@Carrie_Rachel) April 21, 2016
R. I. P to the King Prince thank u for inspiring me to be a Musician First and using this tool to heal people

— Wyclef Jean (@wyclef) April 21, 2016
So sad about @prince ..... You will be so missed.

— ADAM LAMBERT (@adamlambert) April 21, 2016
I cannot believe Prince has died! A musical genius, the soundtrack to so many great dance party memories. My condolences to his family!

— Mira Sorvino (@MiraSorvino) April 21, 2016
We live to die with dignity. My fun moments with Prince are surreal now. Genius. Authentic.Master. RIP. @nilerodgers pic.twitter.com/VWTSIwEk0S

— Richard Lewis (@TheRichardLewis) April 21, 2016
R.I. P. #Prince. An exceptional talent! He made an enormous contribution to music.

— Carole King (@Carole_King) April 21, 2016
"Dearly beloved, we are gathered here today to get through this thing called life." - #Prince #RIP pic.twitter.com/n5DkRYQxTk

— Steve Aoki (@steveaoki) April 21, 2016
God Bless you Prince. There'll never be another like you.

— Wayne Brady (@waynebrady) April 21, 2016
This one hurts.
Loved Prince.
Why do so many greats die so young? https://t.co/8MFipcOV46

— Damon Wayans Yunior? (@wayansjr) April 21, 2016
*An earlier version of this post misidentified Frank Ocean's Tumblr as Kendrick Lamar's.