Celebrities React to the Death of Merle Haggard
Haggard passed away on his 79th birthday.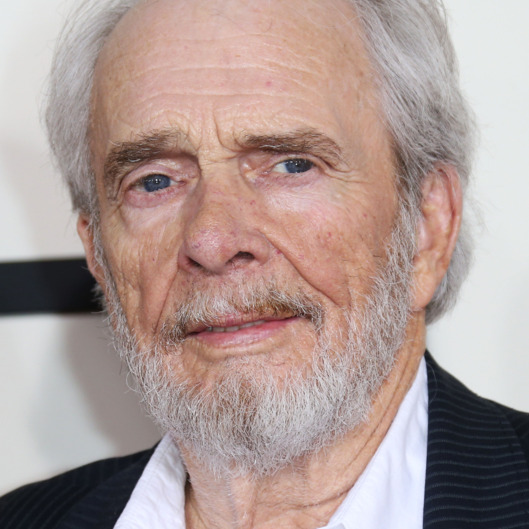 Merle Haggard died at the age of 79 on Wednesday, following a long battle with pneumonia. Fans —  Reese Witherspoon, Carrie Underwood, and Dan Rather among them —  are now mourning the death of the legendary country singer, taking to social media to share their memories and regards. Read on for the touching tributes.
Love and prayers for the Haggard family. Merle was a pioneer...a true entertainer...a legend. There will never be another like him.

— Carrie Underwood (@carrieunderwood) April 6, 2016
God bless Merle Haggard peace and love to all his family Merle was a hero of mine peace and love 😎✌️🌟💖

— #RingoStarr (@ringostarrmusic) April 6, 2016
Merle died today. He was a sweet man, a good soul. He didn't trust authority or those who got rich off the suffering of others. Truly loved.

— Michael Moore (@MMFlint) April 6, 2016
Sad to have lost this Country music legend ❤️ #MerleHaggard #RIP pic.twitter.com/CYHgjevjp6

— Reese Witherspoon (@RWitherspoon) April 6, 2016
A bit of Americana dies w/ Merle Haggard's passing. Storyteller, Singer, Rebel, Icon. Hero to the common man & inspiration to many artists

— Larry King (@kingsthings) April 6, 2016
Merle Haggard is on a freight train leaving town, not knowing where he's bound... #RIPMerleHaggard

— Patton Oswalt (@pattonoswalt) April 6, 2016
RIP Merle Haggard. To All my friends in Sanford Fla we had many memories with Hag on in the background. Tonight play silver wings in salute

— Larry The Cable Guy (@GitRDoneLarry) April 6, 2016
At my wedding, my mother and I danced to a Merle Haggard song. And what a song: https://t.co/Og5moQT6qf Godspeed, Merle.

— John Green (@johngreen) April 6, 2016
Heaven's band just got better! RIP to the LEGENDARY @merlehaggard. Your music will never die!

— Darius Rucker (@dariusrucker) April 6, 2016
Just heard the news. I'm so so sad. I don't even know what else to say....

— Martina McBride (@martinamcbride) April 6, 2016
You are a cornerstone of country music @merlehaggard...u will be missed greatly. Praying for the Haggard family. 💔

— Hillary Scott (@HillaryScottLA) April 6, 2016
Thank you @merlehaggard for the gift of your great music. Thank you God for the gift of the great Merle Haggard. RIP pic.twitter.com/bq2T9Bzise

— Charles Esten (@CharlesEsten) April 6, 2016
"Mighty" Merle Haggard was the greatest country songwriter of ALL TIME. We shared many great memories, and I will miss him. #merlehaggard

— John Rich (@johnrich) April 6, 2016
every family road trip we ever took was to the tune to merle haggard. https://t.co/iZpUSCLt7J

— Aidy Bryant (@aidybryant) April 6, 2016
Nobody ever sang a song with the heart and emotion that @merlehaggard did. No wonder it's raining today. Even God is crying.

— Jake Owen (@jakeowen) April 6, 2016
RIP Merle. Losing a lot of greats this year

— Diane Warren (@Diane_Warren) April 6, 2016
In mourning for my friend Merle Haggard. There's never been anyone quite like him. May he rest in peace. #RIPMerle pic.twitter.com/NkLWtrXkXV

— Dan Rather (@DanRather) April 6, 2016
We've lost an American original. RIP Merle Haggard. Today was his birthday too. ❤️❤️❤️ pic.twitter.com/8erKSIh6SA

— Johnny Knoxville (@realjknoxville) April 6, 2016
I think I'll just stay here and drink. 💔

— KACEY MUSGRAVES (@KaceyMusgraves) April 6, 2016
Rest in peace, Hag. One of a kind, and the definition of legend. pic.twitter.com/aUGX22Avna

— Trisha Yearwood (@trishayearwood) April 6, 2016
Pains me to say that country music icon @merlehaggard has passed away. So honored to have known him and shared the stage with him.

— Josh Turner (@joshturnermusic) April 6, 2016
Heartbroken. #MerleHaggard https://t.co/TeBj4hPd69https://t.co/KTTU0mRVAB

— rosanne cash (@rosannecash) April 6, 2016
Saddened by the loss of Merle. We lost a bad ass man, a great poet! I love you Merle. Prayers for his family. R.I.P. #MerleHaggard

— LeAnn Rimes Cibrian (@leannrimes) April 6, 2016
literally just fell to the floor. can't believe we lost the hag. rip merle haggard

— Dierks Bentley (@DierksBentley) April 6, 2016
RIP @merlehaggard I had privilege of acting w/him. A fun & gracious man who always had a mandolin or guitar near by https://t.co/zilPAeSj4E

— Ron Howard (@RealRonHoward) April 6, 2016
The world will not be the same without @merlehaggard in it. Voice of reason, good man, true American artist. An original. RIP #MerleHaggard

— Sheryl Crow (@SherylCrow) April 6, 2016
A true hero was lost today. Thank you for your contribution to not only country music but all music. @merlehaggard

— Luke Bryan (@LukeBryanOnline) April 6, 2016
His are the footsteps we follow in. Rest easy, Merle. #MerleHaggard pic.twitter.com/nxuW8mcfy3

— The Band Perry (@thebandperry) April 6, 2016
extremely sad to hear of the passing of one of the greatest of all time Mr. Merle Haggard... https://t.co/hmAlAdA8pl pic.twitter.com/s9VhxkXz57

— Jason Aldean (@Jason_Aldean) April 6, 2016
There are no words to describe the loss & sorrow felt within all of music with the passing of Merle Haggard. Thank God for his life & songs.

— Brad Paisley (@BradPaisley) April 6, 2016