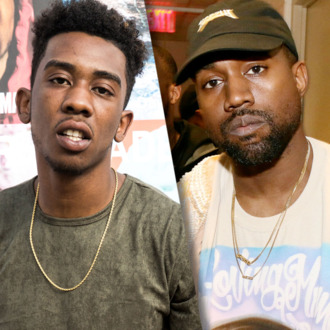 What would it take to dethrone Rihanna and her seemingly unstoppable reign at No. 1? A viral hit from Kanye West's latest album, if you can believe it. On this week's Billboard Hot 100, Rihanna and Drake's time at No 1. for "Work" has come to an end (for now), as the song has dropped down to No. 4. In its stead is a new leader: Desiigner's increasingly ubiquitous region-confused banger "Panda," which Kanye generously sampled on "Pt. 2" off The Life of Pablo. (That song, ironically, has peaked so far at No. 54.) For weeks, "Panda" has been building momentum, thanks to all the memes poking fun at the fact that Desiigner, who is from Brooklyn, sounds like he's imitating Future on the song. (Even Future apparently has jokes about the likeness.)
This is the 18-year-old rapper's first No. 1 (it's also his debut single) and is one of the few recent viral so-called "street" singles to make it to the top: Fetty Wap's "Trap Queen," Silento's "Watch Me," and Bobby Shmurda's "Hot Nigga," for example, ruled their respective summers but each peaked at No. 2., No. 3, and No. 6, respectively. Desiigner now becomes the first American to lead the U.S. singles chart since Wiz Khalifa did it last July. Rihanna's "Work" had spent nine consecutive weeks at No. 1, which last week pushed her past the Beatles for second-longest time spent at No. 1 ever. But Desiigner probably shouldn't get comfortable.
Drake's "One Dance," featuring Kyla and WizKid, has made a 10-song leap from No. 13 to No. 3 (passing even "Work"), which means Drake is once again in hot pursuit of another No. 1 song. Meanwhile, his next album, Views From the 6, drops this Friday. But leave it to Beyoncé to interrupt his grind: Her just-released visual album, Lemonade, will surely produce several Hot 100 hits on next week's chart (it currently occupies most of the Top 10 songs on iTunes) now that it's no longer a Tidal exclusive — it's just a matter of how high on the list will our Queen rule.
And then of course, there's Prince: He currently possesses the No. 1 and No. 2 albums in the country, while "Purple Rain" landed at No. 17 on the Hot 100, in front of five more Prince songs. But remember, those chart numbers reflect only a half a day of eligibility on the charting week, so it's possible those songs (and more) could chart even higher next week. Nielsen, which reports its numbers to Billboard, says that Prince sold 2.3 million songs in the three days since his death. So the battle for No. 1 on next week's chart could very well be between Desiigner, Beyoncé, Prince, and Drake. 2016, you're doing a lot.