66-Year-Old Man With Large Tongue Holds Predictable Opinion on Rap Music
Gene Simmons is feuding with Ice Cube over N.W.A's induction into the Rock and Roll Hall of Fame.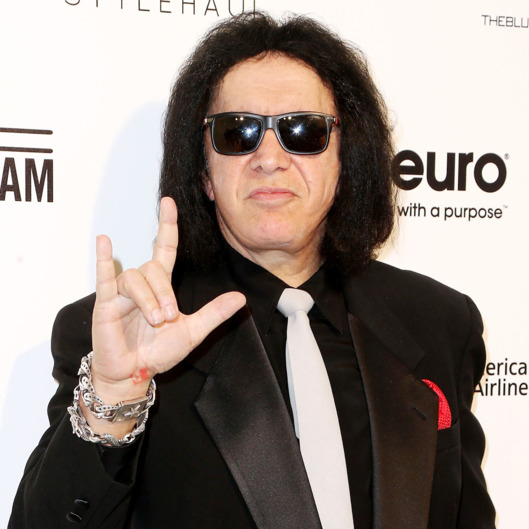 N.W.A was inducted into the Rock and Roll Hall of Fame this weekend, despite the protestations of Gene Simmons, who has long been adamant that rappers do not belong in Ohio's most prestigious music institution. (The KISS bassist also recently stated that "rap will die.") This was enough to prompt disagreement from Ice Cube, who told the New York Times that "N.W.A is probably more rock 'n' roll than a lot of the people that he thinks belong there," and to also get a rise from MC Ren, who dedicated part of his thank-you speech at the induction ceremony to Simmons. "I want to say to Mr. Gene Simmons that hip-hop is here forever," he said at the podium. "We're supposed to be here." Not one to let a good feud die, Simmons fired back — respectfully, of course — on Twitter. Mrow! And here we thought Peter Criss was the catty one in KISS.
Respectfully-- let me know when @JimiHendrix gets into the hip hop hall of fame. Then youll have a point. @icecube https://t.co/BRuU8t5vYe

— Gene Simmons (@genesimmons) April 9, 2016
@genesimmons Who stole the soul? Chuck Berry, Little Richard and Chubby Checkers help invent Rock 'n' Roll. We invent it. Y'all reprint it.

— Ice Cube (@icecube) April 11, 2016
@genesimmons I repeat. And say this with a Kiss. pic.twitter.com/ILKaRWrvxX

— Ice Cube (@icecube) April 11, 2016
Cube - I stand by my words. Respect NWA, but when Led Zep gets into Rap Hall of Fame, I will agree with your point. https://t.co/CQUoJwhZJb

— Gene Simmons (@genesimmons) April 11, 2016
Update: Cube further addressed the beef during a Howard Stern Show appearance, later on Tuesday. "Gene, like I say, he's an O.G.," he explained. "I got a lot of respect for him, I just think he's wrong on this. But I understand the attitude. I hate it when hip-hoppers go to the band, I'm a turntable guy, like old-school, Run-D.M.C. dudes ... But ultimately, we in [the Rock Hall of Fame], baby!" Listen below for the full interview clip, in which the rapper also talks about N.W.A's dropped performance: