Carrie Fisher and Sharon Horgan Talk About How the Star Wars Star Joined Catastrophe
"I turned to Rob, and I went, <em>That&rsquo;s your awful mother</em>!"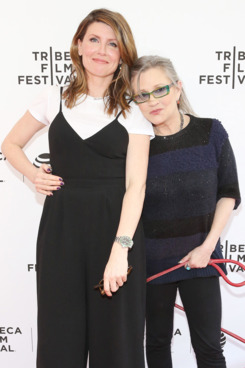 Catastrophe co-creator Sharon Horgan knew the very moment she wanted Carrie Fisher to play her co-star Rob Delaney's particularly heinous mother, Mia, on the show. "You were giving an award at the Attitude Awards in London and you did this great speech, and Rob and I were in the audience," Horgan told Fisher at Tuesday's Tribeca Tune-In event for Catastrophe, moderated by Vulture's own E. Alex Jung. "I turned to Rob, and I went, That's your awful mother!"
According to Horgan, she and Rob took to Twitter to try and scout the Star Wars star, which is how the pair initially connected to make the show. "Rob was like, I have a million followers, and you didn't respond. I was like, I'll try, I've got not many. And you didn't respond, and then we were like, Why don't we go the traditional route and ask her fucking agent?" Thankfully, it worked.
The part was something Fisher was actually interested in considering the lack of roles for older women. "I did really want to play an awful person," Fisher said. "There are not a lot of choices for women past 27. I don't wait by the phone." Ultimately, the pair was a match made in mother-in-law heaven. While Carrie Fisher confessed her love for the show and the writing (particularly the story line about cancer in the first season), Horgan swooned over Fisher: "We still to this day can't believe that you said yes."