Melisandre's Stunning Reveal on Game of Thrones
"You can't take your eyes off of it."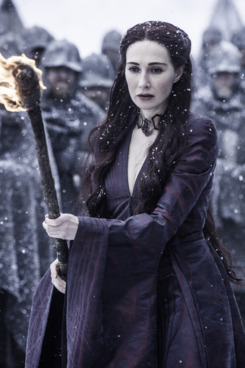 Spoilers ahead for the season-six premiere of Game of Thrones.
Isaac Hempstead-Wright, who plays Bran Stark on Game of Thrones, first got a glimpse of what Melisandre really looked like when he encountered actress Carice van Houten on set, just before she shot her scene. "I was hanging out in my trailer, and I could hear Carice's voice outside, so I said through the door, 'Oh, hi Carice!'" When Van Houten opened the door, Hempstead-Wright shrieked. "I was like, 'Who's that?!' And she was like, 'It's just me.'"
In Sunday night's premiere, we, as Hempstead-Wright did, discover that Melisandre is actually an old crone, possibly hundreds of years old, who's been using magic to disguise herself. (On the show, van Houten wore prosthetic hair and makeup, while a body double was used to complete the effect.) Liam Cunningham, who worked with van Houten long before playing Davos on Game of Thrones (they once played lovers in an independent film called Black Butterflies), explained how the actress had struggled to play the mysterious Melisandre from day one because she didn't know her full backstory. "Carice has played a lot of damaged women, modern women, but she was driven mad by this," he said. "She'd ask, 'Who is she? Where is she from? What is her history?' Because there was nothing as an actor to hang your hat on, it can mess with your head a bit. She had to just embrace the enigma and grow into it."
As for Melisandre, she had tipped her hand to us before. She admits that a certain amount of her magic was an illusion, and we could guess that might extend to her own physical presence. "The shock value of seeing her, the real Melisandre, a little old lady getting into bed and pulling the covers up over her, it was so human, so sad, so odd," Cunningham said. "You can't take your eyes off of it."
"It was so powerful to see her stooped, lowly, and full of self-loathing," Hempstead-Wright said. "It moved me. It seemed to show how deep and twisted she is on the inside, this whole undercurrent of serious darkness. It adds so many layers to who exactly she is, where she was even born, and what her real aim is."
That last part we still don't know for sure. All we know now is she has been wrong, at the very least about Stannis, if not also about Jon Snow. ("She had seen Jon Snow in the flames fighting at Winterfell, and now he's dead," Cunningham pointed out.) Many people on Game of Thrones talk about religion, magic, power, and prophecy, and few can deliver on their promises. But now that we know a little more about what Melisandre is capable of, could she have other powers we've yet to see? Can any of her visions still come true? "I think particularly after the end of season five, it felt like she was kind of a fraud," said Hannah Murray, who plays Gilly. "You wondered, 'Has this all been a lie?' Now we see she really does have the goods."