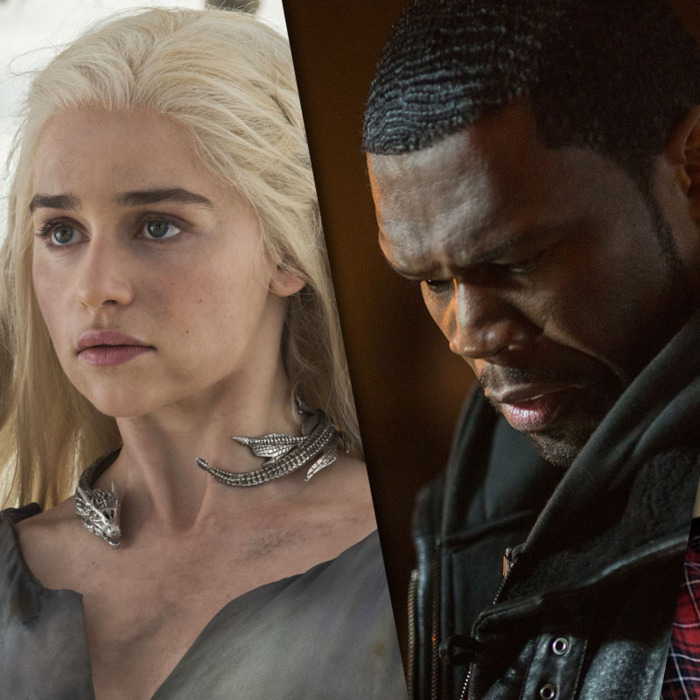 L-R: Game of Thrones, Power, Entourage
Game of Thrones may not be the biggest show on TV as measured by Nielsen — that honor goes to The Big Bang Theory — but HBO's Sunday smash dominates another, increasingly important metric: video-on-demand (VOD) viewership. According to data from Comcast, which reaches more U.S. homes than any other cable or satellite provider, GOT is the most-watched entertainment series on its Xfinity on Demand platform both nationally and in each of the 16 major urban centers the NBCUniversal-owned company serves. And yet, impressive as GOT's performance is, it's not completely surprising, given its strong linear ratings and status as a massive pop-culture phenom. More revealing is what Comcast's city-by-city data shows about viewing habits in different parts of the country.
As part of its annual Watchathon week (going on right now), Comcast compiled detailed information about how viewers nationally, and in its biggest markets, consumed programming via Xfinity between April 1, 2015, and the end of last month. While the company doesn't reveal specific numbers for shows, it does rank them in order of popularity. But, unlike Nielsen, it also doesn't distinguish between shows currently in production and those which signed off years ago: If it's available to stream, it's eligible to make the top ten. And this quirk greatly benefits HBO, whose on-demand platform allows subscribers to dive deep into the network's library of original offerings, going all the way back to 1990s offerings such as Oz. Per the data Comcast made available exclusively to Vulture, three HBO catalogue titles — The Sopranos, The Wire, and, God help us all, Entourage — continue to be massively popular on VOD. In fact, Entourage was the fourth-most-watched show on Xfinity during the past year nationally, just below Empire and ahead of AMC's The Walking Dead. If that seems beyond belief, remember: The Entourage movie, backed by millions of marketing dollars, was released last June.
America's lingering love for Vinnie and Turtle isn't the only viewing quirk revealed by the Xfinity data. Scroll down to see the top biggest VOD shows in 16 big cities across the country: