Why Underground's Composers Chose 'Black Skinhead,' 'Wicked Games,' and More to Soundtrack the Slave Drama
From the Weeknd to Problem Child.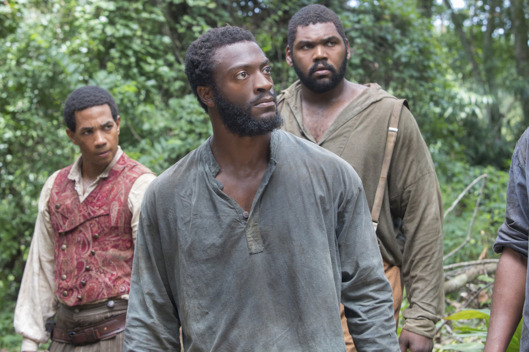 When Underground co–executive producers Misha Green and Joe Pokaski envisioned a fast-paced drama about slaves revolting from a Georgia plantation circa 1857, one thing was concrete from the get-go: "Black Skinhead." Green in particular was dead-set that Kanye West's provocative 2013 single — with its marching percussion and looping, labored breathing, not to mention confrontational lyrics — would soundtrack the series's opening moments. As Underground co-composer Raphael Saadiq confirms, "From day one, [Misha] was bent on it happening … [she] set the tone of the whole show for me."
Despite its period setting, Underground (which airs Wednesdays at 10 p.m. ET on WGN America and has quickly become the fledgling prestige network's most talked-about hit) bumps with a soundtrack ranging from the incendiary "Skinhead" to the Weeknd's tender "Wicked Games," licenses made easier to acquire with John Legend on board as co–executive producer overseeing the music. But it also boasts original compositions for guitar and orchestra by Saadiq and partner Laura Karpman that are often hard to distinguish from the commercial selections. With its debut season nearly halfway through, we talked with Saadiq, Karpman, and music supervisor Jonathan Christiansen about key musical choices throughout Underground's first four episodes, and why it's always important to rely on the kindness of friends and strangers.
Episode 1
Scene: August tricks runaway slave into capture
Song Selection: "Don't Get in My Way" by Zack Hemsey
Why It Fit: "We've known Zack for a while, and his background is in hip-hop," Christiansen explains. "We met him before he made his full transition into scoring films and film trailers. So when he sent us his album, we heard that track and it was a nice cross between hip-hop and orchestral elements. But also, that little twangy guitar added a nice sound, and that was the icing on the cake for us. It almost sounded like it could have been a piece of Laura and Raphael's score."
Scene: Noah has an epiphany about escape in his holding cell
Song Selection: "Map to Freedom" (arrangement by Saadiq and Karpman)
Why It Fit: "It's got strings in it and then this really amazing guitar that Raphael played that defines the low end of the piece," says Karpman. "It's one of the few times I've heard orchestral scoring and guitar fit together in this amazing way, and it's because Raphael has this sense of harmony that's so astonishing."
"I knew it was going to be a challenge," expands Saadiq. "Sometimes I would hear strings before I would hear any guitar, because on all my records I've used a lot of strings."
Scene: Contrasting footage of a black funeral and white-resident celebration
Song Selection: "Walk Over God's Heaven" by Mahalia Jackson (arranged by Saadiq and Karpman) intercut with "Paranavigar" by Jarina De Marco
Why It Fit: "It showed the contrast to me of what happens on the Negro-spiritual side and then the white world," says Saadiq. "It kind of confuses people, but it keeps their attention at the same time. We were struggling with it in the beginning, figuring out how we DJ into this other scene where they're popping champagne and it's a funeral on the right. It's flowers to the left, ghettos to the right for the entire series."
"Both sides are celebrating, but on much different wavelengths," adds Christiansen. "We wanted to fuse the two songs together by an element such as hand-clapping. We did not want to go down that route of finding modern music with vintage qualities. We wanted to do something that captured the essence, but [with] completely different sonics and genres than you'd expect. Lyrics that aren't in English add to the extremity."
Episode 2
Scene: Slave owner Tom and house slave Ernestine's illicit tryst
Song Selection: "Touch" by Marz Léon
Why It Fit: "It comes across as almost innocent, but confident," says Christiansen. "It's a very gentle moment for both of them, even though it's so scandalous. It's the first time we're seeing this side of their relationship. From talking to people and seeing the reactions online, it's probably the most talked-about piece of music thus far."
Scene: Noah and Rosalee connect for a dance
Song Selection: "Wicked Games" by the Weeknd
Why It Fit: "We worked very closely with the Weeknd's camp and were able to get a bit of a favor," Christiansen explains. "I have loads of replacements for every spot, and my instinct is always to find the new unknown, but at the end of the day, recognizability is also an endearing factor of the show. People absolutely loved or hated the Weekend in there. Some people don't really get the juxtaposition, but I think with the Weekend it helped that it's recognizable. We didn't want to fight against that just because people know who the Weeknd is."
"When they brought the Weeknd, I thought it was a good selection for letting a younger, modern ear hear the Weeknd against the backdrop of a piece like that," concurs Saadiq. "Honestly, I would have rather everything been scored, but that would be one of those things where John [Legend] would go, The Weeknd and we'd look at each other and go, That's a great idea, with no pullback at all."
Episode 3
Scene: White elite drink and dance at an upscale soiree
Song Selection: "Good to be Young" by Problem Child intercut with "Nous étions deux" by La Femme
Why It Fit: "As it's a smaller network and a first-year show, we of course had budget restrictions," reminds Christiansen. "So what's cool was those restrictions increased our creativity and we had to dig deeper. We had several songs people loved for that [Problem Child] spot, but when it came down to budget, we couldn't afford them, so 'Good to be Young' was something I found that seemed to work for the producers. And the cross-cultural thing of not necessarily sticking to English lyrics — this was the result of that as well. We wanted to be very on the nose with that feeling of living the good life."
Scene: Noah and Rosalee make a run for it after nearly killing an enslaver
Song Selection: "Jungle" by X Ambassadors featuring Jamie N Commons
Why It Fit: "It's a bold moment that changes the pace for the rest of the season," assets Christiansen. "'[Jungle]' was talked about a lot, and I think when we look back in ten years, it will be one of the ten songs from this current era that will be genre-defining. It was probably the biggest spend we had up until then, but there's an energy about it somewhere between rock and hip-hop that was impossible to replace. We had talked about finding something else, but it's a nice long use, the lyrics are spot-on, and the energy felt right to everyone. We called in a couple of favors and made it work."
Episode 4
Scene: Ernestine holds back tears while neatening Tom's baby's crib
Song Selection: "Crib Crying" (arrangement by Karpman)
Why It Fit: "This is the spirit of the show," says Karpman. "You can say, I wanna try something. If you hate it, we'll throw it out. That particular scene was something I researched early on and found a piece by Louis Gottschalk. He was half-Jewish and half-black. He was from New Orleans and wrote popular piano pieces. I found out that where you'd think Southern girls would be playing Beethoven, they wouldn't because that music would be considered too masculine. So what [slave owner Tom's wife] Suzanna is playing is actual music that was found in Southern girls' music books. I found all these kinds of pieces they would have played, so that was fun and the kind of thing nobody on earth will notice."
Scene: Cato lights crops ablaze and the slaves attempt to escape
Song Selection: "Got More Runners" (arrangement by Saadiq and Karpman)
Why It Fit: "So much of it is trying to figure out how far to go," says Karpman of the frenetic, almost avant-jazz cue. "And that's one of the scenes where things get to be so shocking, and you have to figure out, are you going to make it chaotic or pull back?"