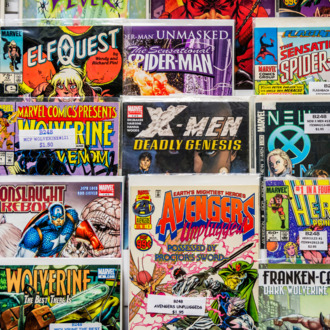 Comics, though none of these were nominated for awards this year.
A few months ago, there was a much-deserved uproar in the world of comics when the list of nominees for the industry's prestigious Grand Prix d'Angoulême was wholly devoid of women. Luckily, that mistake hasn't been repeated in this year's nominations for the Eisner Awards, the equivalent of the Oscars for the comics world. The noms were announced today, and they feature a record-breaking number of nominations for women: 61 in total, with women present in 27 of the 30 categories.
However, there's still some gender-based controversy. The category for "Best Comics-Related Periodical/Journalism" features no outlets run by women. In a year when some terrific comics criticism came from woman-run places like Women Write About Comics and The Beat, it's disappointing to see a shutout there.
On a more positive note: There are some truly great comics nominated this year! March: Book Two, the second installment in Rep. John Lewis's graphic-memoir account of his time in the civil rights movement (co-written by Andrew Aydin and illustrated by Nate Powell), picked up three nominations; so did Ed Piskor's Hip-Hop Family Tree, Paul Tobin and Colleen Coover's series Bandette, and Fantagraphics' compilation of Héctor Germán Oesterheld and Francisco Solano Lòpez's comic strip The Eternaut. As usual, traditional superhero comics were largely shut out and independent publishers dominated. You can peep the full list of nominees here.