15 DGAF Things Carrie Fisher Said at Cannes
"I thought there should be a scene of me wearing Leia's hair buns, just walking by a window looking moody and reading Shakespeare's sonnets."
Have you been mourning the gift that was Carrie Fisher's delightful Star Wars press tour? And is it torturous waiting until Episode VIII rolls around to once again see her troll talk show interviews throughout the land? Well, never fear! To sate your needs, we have HBO Documentary Film's Bright Lights: Starring Carrie Fisher and Debbie Reynolds, an intimate look at famous daughter and famous mother filled with home videos and current footage of their interactions, which The Hollywood Reporter compared to watching a more sane, showbiz version of Grey Gardens (!). Fisher, of course, brought her meme-worthy French bulldog, Gary, to the movie's premiere last night; he adhered to dress code by wearing a bow tie on the red carpet. Gary was also on hand today at a high tea luncheon, where he looked bored as hell as Fisher continued to be hilarious. Here are 15 wonderfully DGAF things she said.
On her reaction to seeing herself back as Princess Leia in Star Wars: The Force Awakens
"I wept!" she said, laying out the chronology from her point of view. "Here I go, Star Wars; Star Wars; big picture of me; very, very pretty; don't know it; don't know it; don't do a lot of work after that, but still enough so that I'm not looking bad; not good, don't like it, but still it's not a lot; to this. Meryl Streep said to me, 'I've watched myself in film three times a year in different outfits. You're gone from metal bikini to 58 years old.' So that was not easy."
On what she thought of Episode VII
"I thought J.J. did as good of a job as he could with the material he was given."
On Episode VIII and her rejected suggestions for Leia moments
"I'm in it, that's all I can say. I'm not wearing the bikini. I thought there should be a scene of me wearing the earphones [Leia's signature hair buns] just walking by a window looking moody and reading Shakespeare's sonnets."
On what she's up to next
"I'm going to read Shakespeare's sonnets and put that hair on, which I do when I'm alone. I look insane, but come on. My daughter has the robe of Princess Leia that someone accidentally gave her and I've put that on and looked idiotic. Halloween is a great night for me because I don't have to wear a costume, I'm just her."
On why her green glasses matched Gary's green rhinestone collar
"It wasn't intentional. I usually follow his [fashion] lead, and we just got this, so we're very proud of it. He wore a bow tie last night. He's the first dog that's walked the Cannes red carpet [Editorial note: Not even Uggie, canine star of The Artist walked the big Cannes red carpet]. I'm beginning to feel a little stupid about this — it's not difficult for me to get to feeling a little stupid — but I never thought that I'd be on of those women who'd have a dog attached to her hip, but here I am!"
On Gary's increasing diva behavior
"He's changed," since getting 16,000 Instagram followers, said Fisher. "'Get me this, get me that.' 'No, I'm not going to sleep.' Actually, he is shitty about eating food: 'No, I don't want sausage, I want bacon.'" And it's true that at a recent panel, he refused to sit down unless brought a pillow. "You can understand it because those wooden seats are very uncomfortable, but it's embarrassing," said Fisher. "And he didn't even like the pillow. It was a little high for him and I knew that was going to happen."
On Gary's tongue, which is always sticking out
"I want to get his tongue pierced," she said. "It's like wandering around with Elvis. I've gotten so much attention with it that it seemed like the most natural, ridiculous move — if there could be a combination like that — to put him on the Internet. And he hates being away from me. That's just sort of attachment anxiety. I feel bad having developed as a person who has that."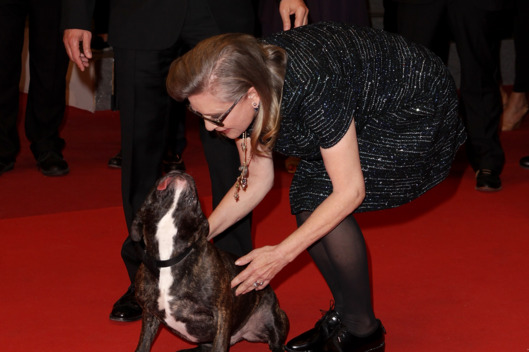 On what Gary and her mother have in common
"I'm very comfortable around high maintenance. I'm used to sort of tending to someone more of the hot house variety, and so here he is."
On Gary's occasional aloofness
"He's a true eccentric," Fisher said, when Gary sauntered over to our table and sat in a chair facing away from us. "I love this! What is this? He's going to sleep now. That's the best thing he did, was fall asleep on all of the talk shows that we did because he was just so bored out of his tree. There was that one woman [Good Morning America's Amy Robach] that said 'that's the first time anyone's fallen asleep on my show.' And I said, 'That you know of!' I think I've done that, to my utter horror."
On Gary's bladder control
"He's good on airplanes, but we got off an 11 hour flight and he thought that the conveyor belt was outside, or he just couldn't hold it, but the conveyor belt was electric and I just thought, Oh my god, we're going to short circuit the whole thing. Can you imagine holding for 13 hours, L.A. to Germany? One time he went to the bathroom in the airplane bathroom."
On her childhood
"My mother let us play in the dirt. That was our big treat. We had to be dressed most of the time with our little pinafores and stuff — not my brother in a pinafore, though that would've been interesting — so she let us play in the dirt. We wanted to. We got these big leaves and we would play in the gutter."
On wishing she could be as vain as her mom
"It's interesting, she didn't allow full access at all [to the documentary directors, Fisher Stevens and his girlfriend Alexis Bloom], in terms of her vanity, and I thought, I should have vanity more. I should make more of an effort. There was a review this morning that said, 'Both women look exhausted.'" Fisher laughed. "But my mother's very much persona-oriented, so to get behind that was really something I wanted for people to see because that hasn't happened a lot. It was something for her to get used to, to have a two-people format rather than just be the center of attention."
On giving Debbie Reynolds a potty mouth
"Did I tell this story? She wouldn't say the word 'fuck' and then eventually she said, 'You have to stop saying it! Because now I'm saying it!' And then a couple days later she said, 'That fucker said the F-word to me!'"
On how her mom greets her when she calls on the phone
"She's a true character. She comes from Texas, so she was groomed to be, 'Hello, I'm Debbie Reynolds.' She calls me: 'Hello, dear, this is your mother, Debbie.' Oh, good, because I thought it was my mother, Howard. So the way we interact is stylistically we're different, and I think that's interesting. But I think to be compared to the Grey Gardens gals, which one of us is doing the flag thing? At least we're not in bathing suits with flags. Thank god we don't have the cats! But we do have the dog."
On not being able to watch herself on camera, and how she's prepping for death
"I couldn't watch myself in [the original] Star Wars. I didn't know I was pretty when I was young, so what do you think I think now? I used to hide under the seats then. So I have a dysmorphic sort of view of myself," she said. The documentary is worse, though. "This was really tough because of the access, because it was horrifying. So I'll just try to pretend I was playing an older woman, and then try to get over that. But my mother is always camera-ready, and I've got to learn to be that way right before I pass away, so they know the look I want at the end. Something over the eye, maybe."