Arsenio Hall Sues Sinead O'Connor for Claiming He Gave Prince Drugs; Sinead Tells Him to 'Suck My Dick'
Sinead's response: "He can suck my dick."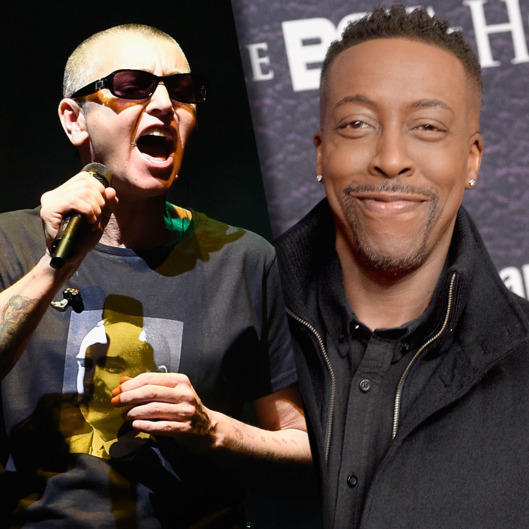 Arsenio Hall has sued Sinead O'Connor following her accusations that the comedian gave Prince drugs. On Monday, O'Connor — whose cover of Prince's "Nothing Compares 2 U" became her biggest hit — wrote a Facebook post alleging that Prince was a "long time hard drug user" and that the police should be investigating Hall for supplying him with drugs. O'Connor also said that Hall "spiked me years ago at Eddie Murphy's house," among other accusations made in a separate post. She claimed to have reported Hall to the Carver County Sheriff's office, which has been investigating Prince's death. On Thursday, Hall sued O'Connor for defamation, refuting all of O'Connor's claims as "absolutely false, ridiculous, and absurd." He also calls O'Connor a "desperate attention-seeker" who is "now known perhaps as much for her bizarre, unhinged internet rants as for her music." Hall's lawsuit argues that O'Connor could not have had any knowledge about his correspondence with Prince because Hall and O'Connor hadn't spoken in 25 years, and she admittedly only met Prince twice. He's seeking $5 million in damages. On Wednesday, the DEA and U.S. Attorney's office officially joined the investigation into Prince's death.
Update: Sinead O'Connor has responded to Arsenio Hall's lawsuit in a Facebook post telling him to "suck my dick." She also claims the DEA is questioning Prince's "friends and aides for the last thirty years" about Prince's reported drug use. Here's her full statement:
REGARDING ARSE-INIO HALL'S LAUGHABLE THREATS

I'm more amused than I've ever dreamed a person could be and look forward very much to how hilarious it will be watching him trying to prove me wrong.

I'm also very happy to notice that the DEA have taken me seriously enough to be thoroughly questioning all of Prince's friends and aides from the last thirty years as to his KNOWN history of hard drug use and where he obtained his drugs. I do not like drugs killing musicians. And I do not like Arsenio Hall. He can suck my dick. That is if he isn't too busy sucking someone else's dick. : )