Cannes: Could Steven Spielberg's Big Friendly Partnership With Mark Rylance Include Indy?
We tried to find out if Spielberg might cast the Oscar winner in <em>Indiana Jones 5</em>.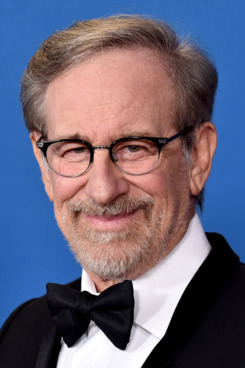 Has Mark Rylance displaced Tom Hanks as Steven Spielberg's new muse? Certainly, their creative partnership had an auspicious start — Rylance won the Oscar for his first collaboration with Spielberg, last year's Bridge of Spies — and they're back together for Spielberg's The BFG, which stars a motion-captured Rylance as a Big Friendly Giant who goes on dream-catching adventures with a little girl (newcomer Ruby Barnhill). The big-screen adaptation of Roald Dahl's classic novel debuted this morning at the Cannes Film Festival, and at the press conference afterward, I asked Spielberg about the unprecedented streak he's engineered with Rylance: They're about to film their third movie in a row, an adaptation of the futuristic Ernest Cline novel Ready Player One.
"I just feel lucky to know him," said a beaming Spielberg as Rylance sat on the dais next to him, circumspect and wearing his trademark hat. "I feel very, very lucky that I got to meet Mark, and even luckier that we became friends. You know, I have a lot of acquaintances over 44 years of directing television and film, and I haven't brought a lot of people from the movies into my life. I have such respect for Mark, but we have so much fun together as friends, as buddies."

And when Rylance has a starring role, it makes Spielberg's job easier.  "The thing I pride myself on is I love casting," Spielberg said. "I think casting is one of the most important things I can do, and one of the most important contributions I can make — even more than directing the actors, just casting the right actors saves me a lot of verbosity." Still, Rylance's ability to toggle between two different characters floored even the veteran director: "Being able to see Mark go from the tight-lipped and close-to-the-vest yet very emotional Rudolf Abel [in Bridge of Spies] to suddenly the expansive and generous and sometimes cowardly and always courageous BFG, just to see that before my own eyes, that transformation, was one of the most astonishing experiences I've ever had in my entire career of working with anybody."

Given that they're shooting three films back-to-back-to-back and Spielberg will next segue to a fifth Indiana Jones movie, I asked him whether he was mulling a role for Rylance opposite Harrison Ford's iconic adventurer, if only to keep their streak alive. Spielberg laughed and dodged the question, employing a dreamy invention of Dahl to make his case.

"To have the friendship and to have the professional working relationship is just a dream come true," Spielberg said instead. "That's my golden phizzwizard."