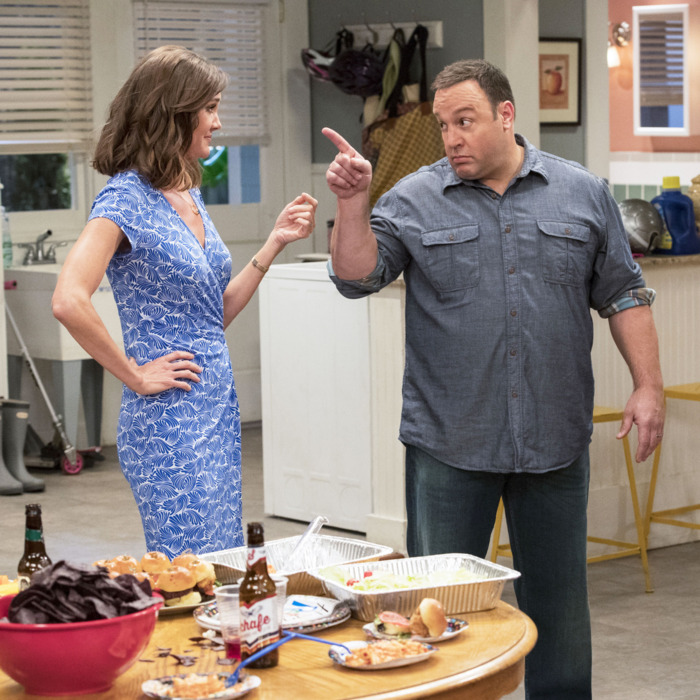 Kevin Can Wait stars Erinn Hayes and Kevin James.
CBS is doubling down on comedy, literally: After stifling the laughter last year, the network will increase the number of sitcoms on its schedule from four to eight next fall as it tries to lighten up what had become a drama-heavy lineup. And the network is turning to an old-school CBS star to help lead its comedy comeback, tapping King of Queens lead Kevin James for Kevin Can Wait, which will anchor a four-comedy Monday lineup. Overall, the network is planning an unusual amount of change to its schedule, adding three new half-hours and three new dramas in the fall — more new series than any of the Big Four broadcasters.
Having gone from four comedies on Monday, to two, to none over the past several years, CBS this fall will once again revert to a four-comedy block on what historically had been the night it dominated with the genre (think Everybody Loves Raymond, Murphy Brown, and Kate and Allie). Early in the fall, the network will use The Big Bang Theory (temporarily relocated from Thursdays due to football) Mondays at 8 p.m. to build an audience for James's show at 8:30, with 2 Broke Girls returning Mondays (where it launched in 2011) at 9, and The Odd Couple getting an unexpected third season at 9:30 p.m. In late October, TBBT will return to Thursdays, Kevin Can Wait will shift back to 8 p.m. Monday and the Eye will roll out Man With a Plan, a new half-hour starring former Friend Matt LeBlanc, at 8:30 p.m. (And yes, with Odd Couple at 9:30 p.m., this means Joey and Chandler will be back the same night. Could that be any more network TV?) Scorpion, one of CBS's most underrated workhorses, shifts to 10 p.m.
Elsewhere, CBS is changing at least an hour every night of the week, save Wednesdays. New drama Bull (a.k.a. The Young Dr. Phil Chronicles) is behind NCIS, with NCIS: New Orleans shifting to 10 p.m. Tuesdays. On Thursdays, Community legend Joel McHale returns to the night with his comedy The Great Indoors, the latest sitcom to try to hold on to the TBBT audience at 8:30 p.m. At 10 p.m., CBS takes another stab at a medical drama with Pure Genius, this one starring Dermot Mulroney. And on Fridays at 8, CBS hopes a new MacGyver will be able to recruit an audience without a lead-in.
We'll have a full analysis of the CBS lineup later today. For now, here's the network's fall schedule:
MONDAY
8:00-8:30 p.m.              THE BIG BANG THEORY
8:30-9:00 p.m.              KEVIN CAN WAIT (N)
8:00-8:30 p.m.              KEVIN CAN WAIT (RTP) (Starting in October)
8:30-9:00 p.m.              MAN WITH A PLAN (N) (Starting in October)
9:00-9:30 p.m.               2 BROKE GIRLS (NTP)
9:30-10:00 p.m.             THE ODD COUPLE (NTP)
10:00-11:00 p.m.           SCORPION (NTP)
TUESDAY
8:00-9:00 p.m.              NCIS
9:00-10:00 p.m.            BULL (N)
10:00-11:00 p.m.          NCIS: NEW ORLEANS (NTP)
WEDNESDAY
8:00-9:00 p.m.             SURVIVOR
9:00-10:00 p.m.          CRIMINAL MINDS
10:00-11:00 p.m.         CODE BLACK
THURSDAY
8:00-11:00 p.m., EST    NFL THURSDAY NIGHT FOOTBALL (Premieres Sept. 15)
5:00-8:00 p.m., PST
8:00-8:30 p.m.             THE BIG BANG THEORY (RTP) (Starting Oct. 27)
8:30-9:00 p.m.             THE GREAT INDOORS (N) (Starting Oct. 27)
9:00-9:30 p.m.             MOM (Starting Oct. 27)
9:30-10:00 p.m.           LIFE IN PIECES (NTP) (Starting Oct. 27)
10:00-11:00 p.m.         PURE GENIUS (N) (Starting Oct. 27)
FRIDAY
8:00-9:00 p.m.             MACGYVER (N)
9:00-10:00 p.m.           HAWAII FIVE-0
10:00-11:00 p.m.         BLUE BLOODS
SATURDAY
8:00-9:00 p.m.            CRIMETIME SATURDAY
9:00-10:00 p.m.          CRIMETIME SATURDAY
10:00-11:00 p.m.        48 HOURS
SUNDAY
7:00-8:00 p.m.             60 MINUTES
8:00-9:00 p.m.            NCIS: LOS ANGELES (NTP)
9:00-10:00 p.m.           MADAM SECRETARY (NTP)
10:00-11:00 p.m.          ELEMENTARY