Ethan Hawke on How River Phoenix Inspired a Chapter in His Children's Book
"I loved and admired him. And was extremely jealous."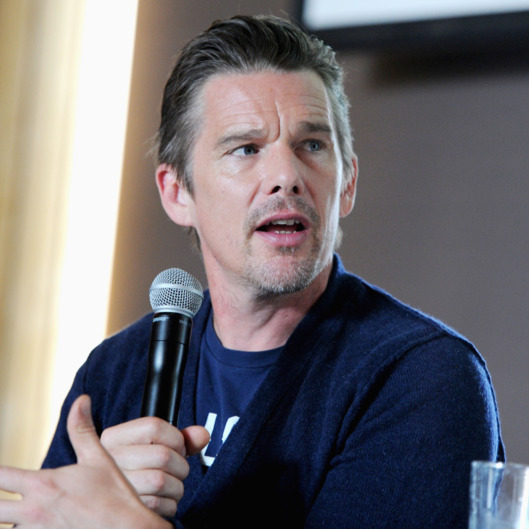 Who knew Ethan Hawke had an aversion to rules? Speaking to New York Magazine film critic David Edelstein Sunday as part of Vulture Festival, the acclaimed actor confessed that he once was "allergic" to them. Which is precisely why he ended up writing the book Rules for a Knight for his four children. It all started when Hawke had trouble introducing some house rules at home. "I was daydreaming about this knight who would tell his kids how to be a knight and these would be the principles. I would get irritated with my wife … bedtime is at 8:30, let's make that a rule. No! Let's talk about the importance of getting good sleep [instead]."
During the wide-ranging conversation, Hawke talked about his life, his craft, and his upcoming projects, such as his latest movie, Born to Be Blue, in which he plays jazz legend Chet Baker. He also reflected on some of his former co-stars, including Robin Williams, Philip Seymour Hoffman, and River Phoenix. As it turns out, Phoenix, whom Hawke met while working on his first film, Explorers, even inspired one chapter in the book.
"The narrator is telling his children about a knight he went through his training with," Hawke said. "And this guy was a better horseman and a better swordsman, and the girls that would come by would like him more. And he just started to hate this other squire. Through their first action in battle his friend is killed. Only then does he realize that he makes him a better swordsman. They weren't in competition with each other, they were in dialogue with each other. And this for me was very much my experience with River Phoenix."

Hawke continued: "I loved and admired him. And was extremely jealous. I would venture to say My Own Private Idaho was the first performance of my generation, where somebody of my era did something, something original. The world since then wonderfully changed, but to be 23 and to play an openly gay character in a mainstream film was very daring, very brave. And he didn't think twice about it. … And I was so jealous. And all of a sudden he has passed and I am missing him. Missing the challenge of him. And how often do we see ourselves in competition with people around us and don't understand what we're doing?"