Kristen Stewart Clumsily Defends Working With Woody Allen, Proving Ronan Farrow's Entire Point
"We don't know any of these people involved. I can personalize situations, which would be very wrong."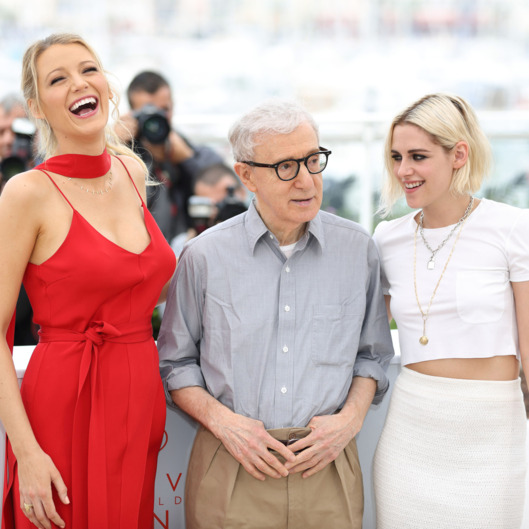 If there's one woman in Hollywood constantly asked to explain herself, it's Kristen Stewart. And in a new profile from Variety, she is and isn't doing just that. She will not define her sexuality for you, but she will tell you why she didn't do The Huntsman: Winter's War. (Spoiler: Because it's trash.) One thing Stewart hasn't explained until now, though, is why she chose to work with Woody Allen on his new film Café Society — even going unusually out of her way to audition, as she told reporters — despite the accusations of sexual abuse that have marred his reputation for over two decades. Admittedly, she says she had her initial reservations. But ultimately, her justification is that Woody Allen is a celebrity just like her, in a world where who can know with certainty what crimes famous people commit when the paparazzi aren't lurking in the bushes. In fact, she and perpetual co-star Jesse Eisenberg (this being his second Woody Allen film) had a not-so-long-ago think about it:
"I was like, 'What do you think? We don't know any of these people involved. I can personalize situations, which would be very wrong.' At the end of the day, Jesse and I talked about this. If we were persecuted for the amount of shit that's been said about us that's not true, our lives would be over. The experience of making the movie was so outside of that, it was fruitful for the two of us to go on with it."
Unsurprisingly, Eisenberg told Variety he has no memory of this conversation ever happening. Stewart's likening the accusations to tabloid fodder sounds especially tone-deaf at a time when Hollywood and the media's failure to hold Allen accountable is once again back in the news. As Allen's son Ronan Farrow writes today in an op-ed for The Hollywood Reporter, "Confronting a subject with allegations from women or children, not backed by a simple, dispositive legal ruling is hard. It means having those tough newsroom conversations, making the case for burning bridges with powerful public figures. It means going up against angry fans and angry publicists."
Allen, meanwhile, put his foot in his mouth in an interview with THR, in which he turned a question about how his wife Soon-Yi has changed his life into self-congratulations. His follow-up answer: "Well, she's given me a lot of pleasure."