Lupita Nyong'o Would Rather Play an Alien or a Wolf Than 'the Wife'
"So often women of color are relegated to playing simple tropes: the sidekick, the best friend, the noble savage, or the clown."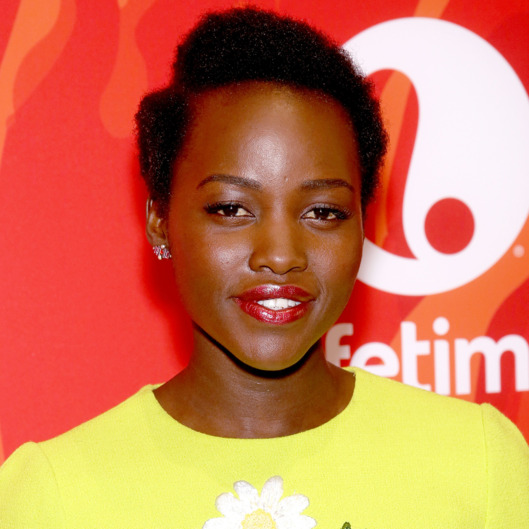 What journalist is out there referring to Broadway as small? Reveal yourself! Prompted by a reporter who asked her, "Why would such a big star choose to do such a small play?" the now-Tony-nominated Lupita Nyong'o shared her reaction to the query in a new Lenny Letter, a reaction that essentially boiled down to "Because I want to play good roles, numb nuts." (Note: She didn't say numb nuts. She would never. She's Lupita Nyong'o.)
The Queen of Katwe star did, however, take a deep dive into her decision-making process. Says Nyong'o, "I decided early on that if I don't feel connected to, excited by, and challenged by the character, the part probably isn't for me. If I'm ever in doubt, I envision the career choices of artists I admire, like Tilda Swinton, Cate Blanchett, and Viola Davis."
She also addressed her more recent fantastical roles in Star Wars and Jungle Book, roles that she sees as some of the best available to her, at least given the alternatives she's been offered as a young woman of color in Hollywood:
So often women of color are relegated to playing simple tropes: the sidekick, the best friend, the noble savage, or the clown. We are confined to being a simple and symbolic peripheral character — one who doesn't have her own journey or emotional landscape ... I think sometimes a singular catharsis can be found in genre storytelling — as I found when playing a thousand-year-old woman (Maz Kanata in Star Wars: The Force Awakens) and a wolf mother (Raksha in The Jungle Book). I'm able to be more engaged in roles such as those than I would be in playing 'the wife' when she is written with no motivation or singularity.
All of which is to say that there really should be no question as to why an Oscar-winning actress would want to dig her non-CGI'ed teeth into the weighty female characters of Danai Gurira's critically acclaimed Eclipsed:
I look out at the diverse audiences who come to full houses and experience our performances, and feel proud of being a part of sharing this important story with the world. I see a work of incredible power that is transforming lives by daring to offer women of color fully rendered narratives, and I feel so lucky to be a part of it. I look at this play and see nothing about it that is "small."