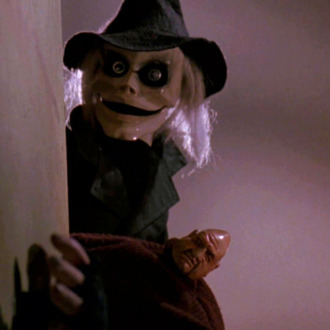 Hello there, and welcome to the puppet-horror cinematic universe. The Puppet Master series, which was born with a direct-to-video release in 1989, is getting a shiny new reboot. S. Craig Zahler of the cannibal-Western Bone Tomahawk is writing the script for Puppet Master: The Littlest Reich, which will be part of the "multiple story lines and expanded mythology" within the new Puppet Master world. Caliber Media and Di Bonaventura Pictures, the company behind the Transformers movies, are heading up the reboot, while Puppet Master creator Charles Band will still hold a few strings as executive producer.
Here's the synopsis for the first film.
The film follows a recently divorced young man who discovers a mint condition Blade doll in his deceased brother's closet and plans to sell the toy at a convention in Oregon celebrating the 30th anniversary of the infamous Toulon Murders. All hell breaks loose at the Postville Lodge during the auction when a strange force animates all of the various puppets throughout the convention as they go on a bloody killing spree.
Sounds like a date night movie to us!