Trumpton Creator's Family Is Appalled by Radiohead's Sublime 'Burn the Witch' Video
The video borrows the <em>Trumpton </em>aesthetic to make a cryptic political statement.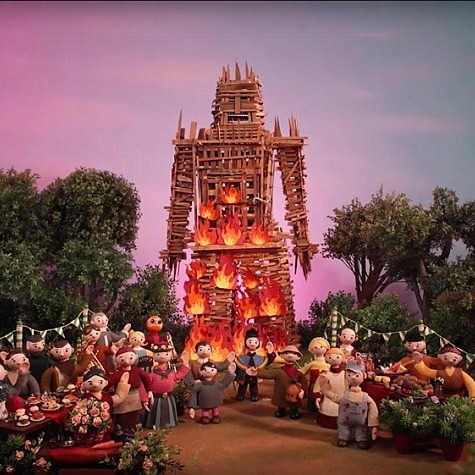 The Wicker Man–meets–Trumpton stop-motion music video for "Burn the Witch," a 4-minute panic attack of pulsating strings and cryptic lyrics that opens Radiohead's A Moon Shaped Pool, came out two weeks ago, following an unusual marketing campaign. It's a brilliant video, beginning with a Blue Velvet–y bird and ending with a man being burned alive inside a huge, man-shaped wicker pyre, but one person was not a fan. William Mollett, son-in-law of Trumpton creator Gordon Murray, tells the Daily Mail that Murray would be "appalled" if he saw the video, adding, "Radiohead should have sought our consent as we consider this a tarnishing of the brand." He said the family never would have authorized the video's release and consider it "a breach of copyright." Trumpton, which hasn't really been relevant to anyone outside or England in almost 50 years, was aimed at kids, and Radiohead's video, and Radiohead's general aesthetic, is decidedly not. No word yet if Robin Hardy, director of the original Wicker Man, has feelings on Radiohead's homage, or if Radiohead cares.