Let's Discuss How The Good Wife Ended
Robert and Michelle King share their thoughts, too.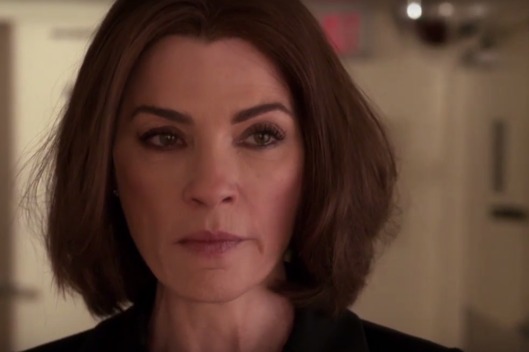 [Warning: Spoilers for The Good Wife's series finale follow.]
"To talk about the end of the series is probably to talk about the beginning of the series," co-creator Robert King said of The Good Wife, after its Sunday night finale. "We'd always had this idea of Alicia becoming more and more of something that she also was not liking in her husband." To that end, the show finished how it began: with a slap.
Team Unhappy Endings, Now And Forever. #sopranos #seinfeld #goodwife #muchofhumanlife #ideallynotelection2016

— emily nussbaum (@emilynussbaum) May 9, 2016
I'm not saying it was ineffective, but that was a very monomaniacal finale for a show that was about so many things. #TheGoodWife

— Daniel Fienberg (@TheFienPrint) May 9, 2016
WTF KIND OF SERIES ENDING WAS THAT @TheGoodWife_CBS?!?!! UGHHHHHHHHH!!!!!! I'm so mad. #TheGoodWife pic.twitter.com/lVZQ2Cmu73

— Sylvia Obell (@SylviaObell) May 9, 2016
The ending of #TheGoodWife had just the right amount of ambiguity and closure. It was really great, i think.

— Ben Dreyfuss (@bendreyfuss) May 9, 2016
I'll say it: Worst series finale since #HIMYM, and I don't say that lightly. #TheGoodWife

— Ryan McGee (@TVMcGee) May 9, 2016
Aside from mixed initial reactions, Sunday's episode also left several questions in its wake: What is the next stage of Alicia's life? Why did she betray Diane? With whom does Alicia end up? What are fans and viewers supposed to make of the finale? While we wait for Vulture's official Good Wife recap, roll the following clip to see creators Robert and Michelle King address those questions, and share your own thoughts about the "End" in the comments below: