Archer Producers Would Really, Really Like Jon Hamm for a Live-Action Adaptation
... but there's a twist.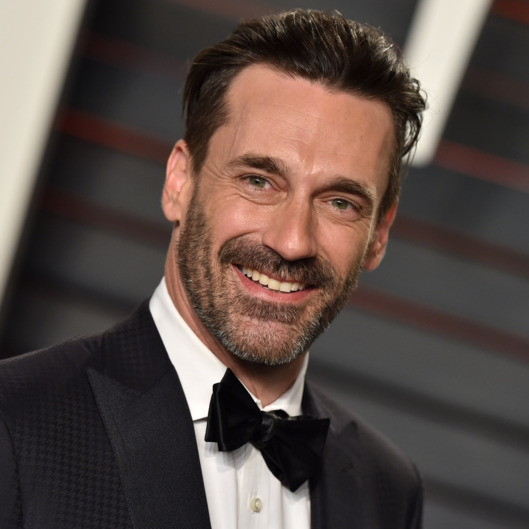 Archer just wrapped its exhilarating, cliff-hanging seventh-season finale, with fans now eagerly awaiting the adult espionage comedy to be picked up for another round of episodes. The show's fate has yet to be announced, but there's a bit of tantalizing information that might keep fans at bay in the meantime — in a new interview with The Daily Beast, executive producers Matt Thompson and Casey Willis revealed there have been talks of a live-action film adaptation about Sterling Archer's exploits, and there's only man they have in mind for the role. And that man, in perhaps the most exciting not-even-close-to-being-official casting news of 2016, is none other than Jon Hamm. (Cue the Sterling Cooper Draper Pryce quips.)
"It's Jon Hamm," said Thompson. "If Archer goes live-action, I do believe it will be Jon Hamm." But a live-action adaptation poses a unique problem: What would happen to H. Jon Benjamin, who provides the suave secret agent's distinguishable voice? "Maybe you could do it with Jon Benjamin's voice coming out of him? I don't know," Thompson continued. "Adam [Reed, the show's creator] is always like, 'I don't know if I want the movie to be live-action because I want it to be Jon Benjamin!' But if it is live-action — and if it is not Jon Benjamin — it is our greatest hope that it would be Jon Hamm. I can say that with confidence."
In the end, the decision for a potential film comes down to Reed. "It's all up to whatever Adam wants to do, but he and I have definitely talked about it," Thompson continued. "We vacillate between if you do it, why are you doing the TV show? And should it be live-action, or should it be cartoon? The talk is there, we just still haven't decided. I don't think there will be a movie before the last episode of Archer airs on TV. I don't think we'll make a movie before the series finishes." Hamm previously appeared on Archer for the fourth-season finale to voice an unhinged sea base captain, but we have a feeling he's well-equipped to switch roles for a boozing, womanizing spy.