The Best Songs of 2016 (So Far)
Including Anderson .Paak, Pinegrove, and scrappy up-and-comers Beyoncé and Kendrick Lamar.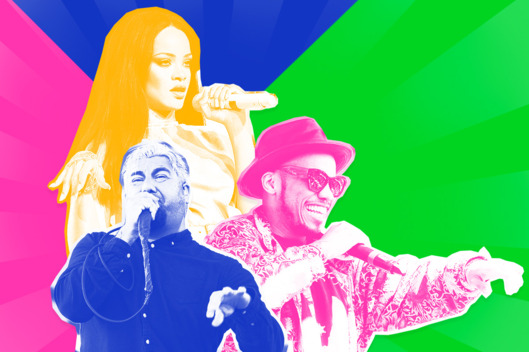 This week, Vulture is reviewing the best of entertainment so far in 2016. To date we've touched on albums, video games, comics, books, and TV shows. Now TV networks and songs get a turn.
It's barely summer, and already 2016 has seen exciting new albums from a pantheon of A-list greats and scores of sleeper gems from soon-to-be famous talents. Earlier in the week we presented you with our list of the ten best albums of the year; now it's time for the songs. Each of these is a blast of genius in miniature: a mercenary pop/R&B radio song, a druggy rap anthem, a stately country-soul barn burner, a shoe-gaze-inspired rocker. Dig in and get caught up on what the young year has delivered.
"Aphasia," Pinegrove
Montclair, New Jersey, indie-rock outfit Pinegrove nestled up in a peculiar crawlspace between emo and country on this year's excellent Cardinal, which stashed pedal steel, banjo, and true hurt inside a body of songs that would've rocked plenty hard without them. The highlight is "Aphasia," where singer Evan Stephens Hall picks over the shards of a broken heart in a groove that teeters at the brink of a honky-tonk shuffle. "One day I won't need no love," he sings to himself at the gutting climax. "One day I won't define myself by the one I'm thinking of." "Aphasia" is about recognizing life as a mountain hike toward grace and summoning the perseverance to keep climbing even when it hurts to move and the peak is out of sight. It's a comforting reminder that dark and unsure days don't last any longer than the good ones. —CJ
"Freedom," Beyoncé ft. Kendrick Lamar
It is unenviable work trying to parse what the most important song on a most important record might be, especially in the case of a work like Beyoncé's Lemonade, which is rife with formidable contenders. For a second, though, consider "Freedom." It is the moment in the song cycle where the point of view pulls back from Beyoncé and her personal adversity to Beyoncé and our culture's trials. It is the point where she transmogrifies into the force of nature that the orisha's rage of the Lemonade video component hints at. "Freedom" isn't a protest song, it is a tempest over the battlefronts of inequality. Beyonce's not an angry woman, she's a wave, a cleansing rain. The pull of the undertow is so titanic that even Kendrick Lamar, a master at his craft, can only struggle to keep from drowning in the depths. —CJ
"Inside the Mattress," Future
The best Future songs these days are the motivational anthems about snatching success in the face of insurmountable odds. Of the already hefty body of songs the Georgia trap star has released this year, Purple Reign's "Inside the Mattress" captures this most purely. Over twittering keys and moody guitar from Atlanta production duo Nard & B, Future reminisces about drug-dealing days when product, money, and guns were hidden under the bed for safekeeping, all the while toasting the wealth and prosperity that hip-hop has provided. What's moving about "Inside the Mattress" is that he's still hungry for more. ("I'm getting better, I'm at practice / I'm working every day, crafting.") What do you gift the man who has everything? More time to spend with it. —CJ
"Needed Me," Rihanna
Though we're only halfway through 2016, it's already abundantly clear that, barring some sudden and unprecedented worldwide surge in compassion and patience, this is the Year of the Savage. Enabled (in the worst sense of the word) by the internet while increasingly starved of nourishment, attention, status, money, power, justice, and/or kindness, the human race is dispensing with civility and reverting to its least-forgiving self. We could list examples from the news ad nauseum, though, being creatures of the world, one could just as well look within for confirmation that the state of affairs is bad and nowhere near improving. In any case, for anyone too exhausted for feed ingestion or for introspection, there's "Needed Me." Mixing shadowy bass, shivering synths, and a vocal sample suspiciously reminiscent of male tears, the sparse keystone track of Rihanna's low-key January masterpiece Anti features Riri at her independent best as she expertly taunts an ex-lover for envisioning her as anyone other than her true vicious self: "Didn't they tell you that I was a savage? / Fuck your white horse and your carriage. / Bet you never could imagine." Blatant yet subtle and charged with a delicate sharpness, "Needed Me" has a serious point: The obligation to be savage doesn't cancel out the need to keep cool. Cruelty may be called for; melting down is optional. For now, at least. —FG
"Numb," Max Jury
At first pass, singer-songwriter Max Jury's "Numb" sounds a bit misnamed. The lead single off the Iowa-born pianist's self-titled debut album is many things — winsome, wounded, self-effacing — but the warm vocal and excoriating writing ("My momma locked me out again / And hung me high to rust under the rain") at its core are leagues too soulful to ever be exactly numb. Suffering the gauntlet of failure and misfortune hinted at in the song's verses would leave anyone shellshocked, though. The song's bombed-out refrain of "I am numb" is really just a rational response to a rough patch. The soulful elegance in Jury's delivery, however, is the mark of a star on the rise. —CJ

"Prayers/Triangles," Deftones
If anything holds metal together, it's a willingness to do what nice people don't, and over the past 20-plus years the Deftones have assembled an uncommonly powerful and reliable body of work by being, sonically and lyrically, more scathing than politeness permits: "Hate all of my friends — they all lack taste sometimes." What's remarkable about the Northern California quintet, though, isn't the shredding so much as the electric charge they generate by contrasting abrasion with tenderness: Compared to other metal bands, a disproportionately high percentage of the band's output has consisted of songs where the sweet savagery inherent to romantic passion is laid bare. Much like the Pixies' loud-soft alternation, the Deftones' expert steering between harsh and melodic has become somewhat formulaic over time, but as their eighth album Gore, released in April, proves, that doesn't mean that it isn't still a winning formula. "Prayers/Triangles," Gore's first track and lead single, revisits themes of faith long-present in singer Chino Moreno's lyrics: after gleamingly backed, gently tortured verses regarding religious devotion, in the chorus he pins down its inextricable nature over a sudden rage of guitars: "Prayers, laid on the line / You will never be free." An unhappy truth of the spirit, but beautifully expressed — even when the Deftones aren't making love songs, they're always romantically inclined. —FG

"Room in Here," Anderson .Paak ft. the Game
Released in January when there was still hope for the year, Anderson .Paak's album Malibu, with its effortless fusion of rap and neo-soul, evinced an excellence at once distinct and hard to place: The Southern California Blasian's ample gifts as a rapper, singer, songwriter, drummer, and keyboardist resisted categories and all but defied belief. The consistently soothing quality of .Paak's soundscapes and his ardent, unforced, reassuring delivery masked just how unnerving it was for a single artist to possess such manifold talents; equally disturbing was how clear it was that, for all the elegance and brilliance on display in Malibu, .Paak was nowhere close to peaking. Even in a generally radiant collection, "Room in Here" manages to stand out as a highlight: Backed by a jazzy piano riff, a tireless kick drum, and his own crooning, .Paak's courtship bars slide smoothly between singing and speech before West Coast veteran Game tops off the track with a charming and (relatively) chaste 16. In a year defined by fighting words, this song's proven to be a warm and all too scarce reminder of what's worth fighting for. —FG
"Time Moves Slow," BADBADNOTGOOD ft. Sam Herring
The Toronto jazz buffs in BADBADNOTGOOD exude a confident versatility that keeps them in demand around jazz circles as well as hip-hop ones. Their earliest renown came from spirited covers of rap classics from J. Dilla, Gang Starr, and Gucci Mane, but they've also popped up at jazz festivals and toured with Roy Ayers. BBNG's skill as interpreters shines especially on "Time Moves Slow," the single from their latest album IV. It's a darkly wistful rock/soul jaunt that calls back to spooky old '60s pop hits like the Classics IV's "Stormy" in both the mix, whose cool guitar and smoky organ are mapped to different channels, and the love-starved vocal, which sports a crackling, wrecked blue-eyed soul reading from Future Islands singer Sam Herring that could pass for a long-lost Tom Jones nugget. This is more than pastiche, though. Like each party's best work, the character breathed into the song feels new even if the sound and structure deliberately do not. —CJ

"True Love Waits," Radiohead
This isn't the first time Radiohead has taken up an old B-side to reshape and polish it to fit a new album — "Nude," like "True Love Waits" a leftover from OK Computer, appeared on 2007's In Rainbows — but unlike the gorgeous, soporific "Nude," which kindly informed you that dreaming big was pointless, "True Love Waits" mixes in a much-needed measure of hope. Now framed by pianos reminiscent of a large, bubbling, dimly lit aquarium, the pleading in Thom Yorke's already stark lyrics takes on new urgency and depth. The song has never been better, and not just because the version on the live album was a bit washed-out and the even-older version was available only on CD-Rs. —FG
"Ultralight Beam," Kanye West ft. The-Dream, Kelly Price, Chance the Rapper, and Kirk Franklin
If Kanye West has finally become a conventional artist, he's done so in the most original way, creating new standards of genius, taste, and presentation that the rest of the world, having seen the light, has scrambled to adopt. Premiered and released (but not completed — like Christianity, its work is never done) in February, West's willfully imperfect seventh album The Life of Pablo confirmed West's status as the pope of pop culture and black music even as it testified to the ever-increasing convergence between the two. Gospel music is great on its own, but only Ye could make it cool by summoning, on Pablo opener "Ultralight Beam," a small convention of black artists — singing, rapping, and preaching as one — to dramatize the doubt, defiance, and exaltation of his spirit, and theirs. It's one thing to speak of heaven, another thing to strive for heaven, and a third thing to make heavenly music. "Ultralight Beam" does it all: As Ye proclaims, this really is everything. —FG