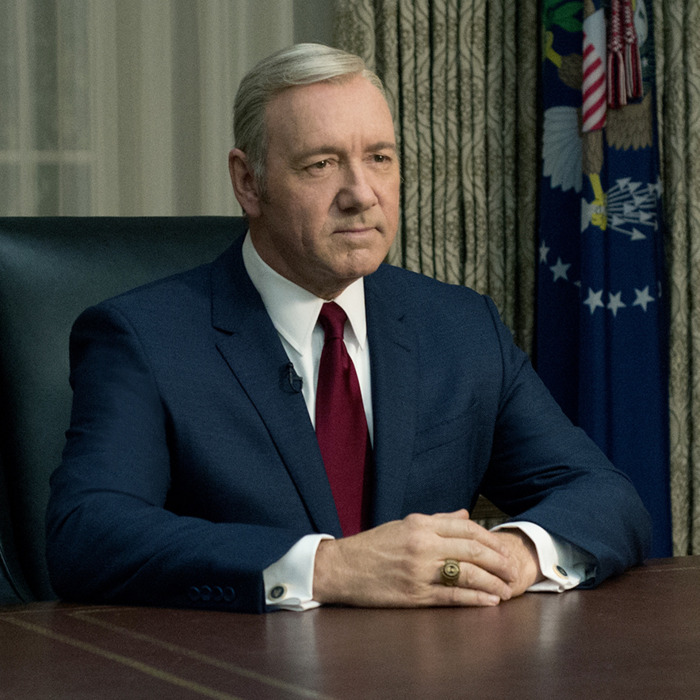 The 2016 Emmy race has begun, and Vulture will take a close look at the contenders until voting closes on June 27.
For the first time in eight years, Jon Hamm will not be contending for the Emmy for best lead actor in a drama.
Even though Hamm only won the thing for the first time last year, Don Draper — arguably the last representative of TV's "Difficult Men" era — had a reserved seat at the nominees' table for almost a decade. During that time, other actors established themselves as regulars in this category, too: Bryan Cranston, who won four out of the six times he was nominated (last year was the first post-Breaking Bad Emmy year); Michael C. Hall, whose work on Dexter was recognized five times during his serial killer reign; Jeff Daniels, whose portrayal of journalist/blowhard Will McAvoy earned nominations, and one victory, during the three seasons of The Newsroom; and Kevin Spacey, whose fourth-wall-shattering turn as Frank Underwood has received an Emmy nod every season since House of Cards started streaming on Netflix.
This year, with the exception of Spacey, that old guard of usual suspects is out of the game. That means some other previous nominees could have a better shot at actually getting a trophy; brand-new faces (Rami Malek!) could enter the race, and (fingers crossed) some criminally overlooked men might get their chance to break into the lead actor in a drama circle.
Here's a look at some (though hardly all) of the guys with a chance to enter the field, whose players will be officially established when the Emmy nominations are announced on July 14.
Most Likely to Be Nominated, and Possibly Win:
Kevin Spacey, House of Cards
Spacey has often been positioned as a front-runner because of his pedigree: He's got two Academy Awards, a Tony Award, and several Screen Actors Guild trophies, including a pair for his work on House of Cards. He's even an honorary knight of the British Empire, which I'm pretty sure means he could take over as Lord Commander of the Night's Watch if the need arises. But when it comes to the lead actor in a drama Emmy, other actors — Daniels, Cranston, Hamm — have always stood in his way. (One could argue that his not terribly nuanced character, Frank Underwood, has always stood in his way, too.) But with those guys out of contention and a House of Cards season four performance that enabled the actor to show more of Frank's vulnerability than he has before, this could be Spacey's Emmy year.
Other Familiar Contenders That Could Contend Again:
Hugh Bonneville, Downton Abbey
Kyle Chandler, Bloodline
Bob Odenkirk, Better Call Saul
Liev Schreiber, Ray Donovan
Chandler, Odenkirk, and Schreiber were all nominated last year and, given Emmy voters' inclination to be redundant, it wouldn't be surprising to see at least one or two members of that trio on the list again. (Of the three, Odenkirk strikes me — and the oddsmakers at Gold Derby — as the most likely to pull off a repeat performance.) Bonneville has been nominated twice prior for the mix of classiness and stubbornness he brought to Lord Robert Grantham on Downton Abbey, and since the beloved British series took its final bow earlier this year, some members of the Academy may feel compelled to honor him one final time. (What, you want to deny an actor who can make this expression while receiving a puppy by surprise?)
The (Possible) Representatives of New Shows:
Steve Buscemi or Louis C.K., Horace and Pete
Bobby Cannavale, Vinyl
Paul Giamatti or Damian Lewis, Billions
Aldis Hodge, Underground
Rami Malek, Mr. Robot
Buscemi, Louis C.K., Cannavale, Giamatti, and Lewis have all previously been shown TV Academy love for other projects, so it's reasonable to expect a nomination for at least one of them. Since Horace and Pete isn't associated with an established network, streaming service, or studio, it may have the steepest hill to climb to get in front of voters' eyeballs. The not-so-hot buzz on Vinyl could hurt Cannavale, too, although even those who don't love the show agree that he's magnetic as disco-era record-exec trainwreck Richie Finestra. As for Lewis and Giamatti, as strong and Emmy-loved as they both are, they could wind up taking two out of the six spots, or splitting the vote and canceling each other out.
If they can cancel each other out, that could open the door for a truly fresh face in the Emmy race, like Hodge, who benefits from his determined performance as the enslaved Noah on Underground and, possibly, the fact that in the wake of the #OscarsSoWhite firestorm, Emmy voters may be extra-conscious of their own diversity problems. In the lead actor in a drama category in particular, Emmys are even whiter than the Oscars are; there hasn't been a person of color nominated in the field since 2001, when Andre Braugher got a nod for Gideon's Crossing. It would be nice to see that rectified, and Hodge could be the actor to do it.
And then there's Malek, who was nominated for a Golden Globe* in this category earlier this year and is certainly the buzziest "newcomer" in the category given all the critical praise and online interest that has swirled around Mr. Robot. Will the Emmys be enough in touch with the zeitgeist to nominate him, or will they be too ultra-establishment and E. Corp about the whole thing to go there?
The Previously Overlooked Who Might Finally Get a Look:
Terrence Howard, Empire
Clive Owen, The Knick
Matthew Rhys, The Americans
Justin Theroux, The Leftovers
Even though millions of people are still watching Empire, the show has lost some of its critical allure this season and may have careened too far off the soap opera rails to get Emmy attention for anyone other than, possibly, Taraji P. Henson. Again, though, the potential for an #EmmysSoWhite hashtag may make some voters at least look a little longer at Howard. As an Academy Award nominee who has yet to score Emmy attention while starring in a show directed by Oscar-winner Steven Soderbergh, Owen might finally get some notice for a role that, yes, falls into the "difficult man" category. But there are two previously overlooked actors who I'd most love to see nominated: the consistently understated and excellent Rhys, and Theroux, who karaoke-broke our hearts on season two of The Leftovers.
It's unclear which of these many men will make the final cut. But given all the great performances to choose from, not to mention the numerous others not mentioned here, six nominee slots doesn't seem like nearly enough.
* An earlier version of this posted stated that Rami Malek won the Golden Globe this year. He was nominated, but he did not win.