What You Missed at the 2016 Governors Ball Music Festival
Torrential downpours, Prince tributes, and surprise cameos galore.
What's Gov Ball without a little bit of rain? Or as was the case for the 2016 Governors Ball, a complete washout. For the first time in the festival's six-year history, it had to cancel an entire day due to projected severe thunderstorms. And not just any day, but the day Kanye West was scheduled to close out the festival. But what could've been of Kanye's first time performing The Life of Pablo in America, we'll just have to wait and see — as will Summer Jam, Webster Hall, and every other venue in New York City that Kanye tried to convince Mayor de Blasio to let him borrow overnight. Still, even with just two rainy days, Gov Ball 2016 left behind several memorable you-had-to-be-there moments. Below, we revisit the weekend's many highs and lows.
HIGHS
Best Cover
Last year, Beck pulled off the upset of the decade to win Album of the Year at the Grammys over Beyoncé. What most probably don't remember about that moment though, thanks to Kanye's faux interruption, was that Prince gave him the award. Beck was so overwhelmed, he just went for a hug without asking, only realizing after he saw a photo of the moment later on that Prince had a smile on his face approving of the affection. It's a charming story Beck proudly shared during his incredible, career-spanning set before he covered "Raspberry Beret," "1999," and David Bowie's "China Doll" with two giant Prince and Bowie murals looking on in the distance. —Dee Lockett
Most New York
For a New York-based festival, there weren't a whole lot of New York acts on this year's lineup. So if it came down to the Strokes vs. Action Bronson in the battle of the boroughs (sorry De La Soul), Bronsolino wins by a watermelon. As in an actual watermelon a fan gave the Queens rapper, who then proceeded to smash it onstage while smoking a blunt. He spent his set recounting stories of driving across the RFK Bridge in the middle of the night to get his baby mama diapers for their kid, bringing out Big Body Bes and Meyhem Lauren, eating a pan of food mid-performance just because, and welcoming his grub brother Mario Batali to the stage. "I'm so Queens like a Roy Wilkins T-shirt" indeed. —DL
Best Gay Ball
Remixing all of your songs live — including your biggest hits — isn't something most artists should attempt at a festival. But Robyn isn't most artists; she's a dance-music pioneer. So if she chooses to serve you "Dancing on My Own" as dark, brooding disco while sashaying in front of floor-length mirrors, you better be in that crowd slaying on her level. Robyn's Gov Ball — or should we say Gay Ball — set on Friday night was a full-body workout, a dance-floor battle challenging her crowd  to keep up with the breakneck pace and attitude of the many voguers and go-go dancers she let transform her stage into a basement rave. I spent the night working up a sweat in front of two men dressed as Michael Jackson in "Thriller," complete with the red leather jacket and light-up sequined gloves, who let out no less than 50 variations of "Yasss bitch" as their queen made the most of a stage not fit for her discotheque. Which is to say it was like dying and entering gay paradise. Leave it to Robyn to kick off NYC's Pride festivities weeks ahead of schedule. —DL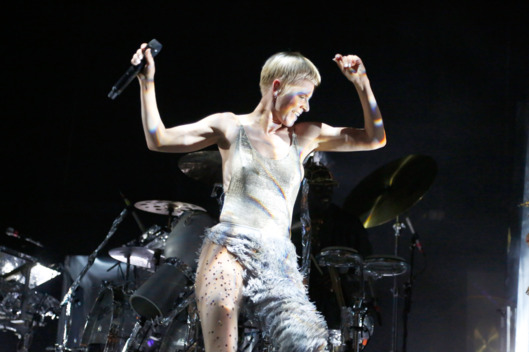 Best Couple
Matt and Kim. Need we say more? —DL
Best DJ
As usual, the Bacardi tent played host to some of the weekend's best DJs and dance acts, but no one read the crowd better than Jamie xx. At 27, he's fast become one of music's best connoisseurs, acting as a savvy sampler and expert curator. Drake's "One Dance" may have eclipsed its inspiration, the Crazy Cousinz remix of Kyla's "Do You Mind," but please believe the xx were covering the original back in 2009. Leave it to Jamie xx to remind a crowd of teens and dads alike of the song's deep U.K. roots by playing  Kyla's version without ever dropping Drake's. (He even skipped over Drake and Rihanna's parts on "Take Care"; the man lives to tease.) Jamie can make a mix sound at once infinite and fleeting, a dizzying effect he flexed by spinning the Human League's "Don't You Want Me" early on for a tent-wide sing-along that could've lasted all night, if he let it. —DL   
Best Tribute
Prince probably would've never played Gov Ball. I say that because, while he was alive for it, he opted to headline Essence Festival one year instead, and had already blessed Coachella three years before Gov Ball ever existed. Still, Prince's presence was felt throughout Gov Ball this year — as was that of David Bowie and the other greats we've lost this year. In addition to Beck's covers of both Prince and Bowie, HAIM did "I Would Die 4 U," while Mac Miller had his crowd sing "Purple Rain," and surprise guest Wyclef Jean shouted-out Prince. But arguably the most moving tribute came from the festival's art direction, which included an elaborate four-sided mural featuring paintings of Prince, Bowie, Phife Dawg, and Lemmy —  all towering over the festival like the larger-than-life (yep, even the Five Foot Assassin) legends that they were. For a weekend inundated with rain, at least some of it was purple. —DL
Best Dance Moves
An early Friday set time and a light drizzle did nothing to deter Christine and the Queens from pumping up the jam. And I mean that literally: The French pop star born Heloise Letissier —  who's still flying a bit under the radar in the U.S. — and her posse of well-dressed male dancers at one point busted out a fully choreographed cover of the 1990 Jock Jams hit. Electrifyingly nostalgic covers aside (she also gave a nod to Prince by performing a verse of "I Feel for You"), Letissier gave a performance that was compelling on multiple levels, delivering near-perfect vocals without a backing track while executing oddball, kinetic choreography throughout the set. That showmanship, combined with Christine and the Queens' inclusive and gender-fluid message, made for a triumphant coming out party. "You came here to know me, right?" Letissier yelled to the crowd, which we can only hope contained some new Christine converts. "Well, here's me right now." It was an expression of originality that was every bit as sincere as it was fun. —Samantha Rollins
Best Surprise Guests
You can't play your own city and not show out. LES duo the Knocks wisely came armed with their highest-profile collaborators, starting with none other than Carly Rae Jepsen. If Gov Ball couldn't get CRJ a stage of her own (sigh), at least someone had enough sense to let her command theirs for a smooth five minutes of belting out "Love Me Like This." The crowd ate it up accordingly. What's better than a CRJ cameo? Nothing! But also getting to see Wyclef Jean perform "Ready or Not," diss Trump in a mini-freestyle, and climb up the tent rafters like he's not pushing 50, all in the same Knocks set, is a damn close second. —DL
LOWS
THE WORST
Govballers got a taste of what could have been in store on Sunday starting on Saturday evening, when a pleasant late afternoon sprinkle during Miguel and Haim's sets gave way to a full-on downpour, sending much of the crowd fleeing for shelter under trees and liquor tents. From then on, a steady stream of festival goers could be seen making the exodus over the RFK Bridge fleeing the already muddy grounds, though the rest of the night's sets went on as planned. Sunday's cancellation due to severe weather, however, was unprecedented (only Kings of Leon got rained out in 2013), though it was likely the right call considering the mess that was Mudball 2013. Though the festival organizers are giving full refunds for Sunday ticket holders and pro-rated refunds for those with three-day passes, it's still a bummer to miss out on what could have been spectacular: mainly, a headlining set from Kanye West — not to mention performances from the likes of Death Cab for Cutie, CHVRCHES, Joey Bada$$, and Gary Clark Jr. —SR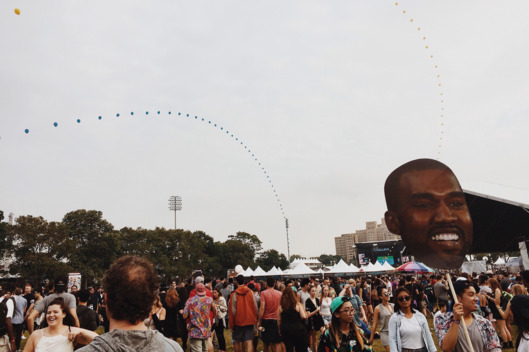 Biggest Mindfuck
Kanye West was a huge draw at Gov Ball this year, since Sunday's festival-closing set was to be his first U.S. gig since the release of his latest album, The Life of Pablo. Excitement swirled about the stage show and setlist all weekend; he even made shirts for the occasion. But fate had other plans, as an hour or two of serious rain and the threat of a thunderstorm caused the park and festival to call the whole day off. It wasn't long before every other event in town reported Kanye sightings. Summer Jam got a Pablo appearance, and an abruptly announced, middle-of-the-night replacement gig at an undisclosed location in Lower Manhattan sent a couple thousand eager fans onto the street outside Webster Hall. Kanye eventually showed face, only to find that he couldn't get into the venue, and affiliates who'd made it there ahead of him couldn't get out. After pleading with cops and city officials for a place to perform at 3 a.m., Kanye finally gave up and went home. If you were on the street for the minute he poked his head out of his car to try and part a pathway into Webster, or if you randomly jetted to S.O.B.'s, where Pusha T, Desiigner, Travis Scott, 2 Chainz, and A$AP Rocky inexplicably ended up, you're probably raving about a great night. If you paid to see the first-ever Pablo gig at Gov Ball and didn't even get to leave the house before it got cancelled, not so much. —Craig Jenkins
Worst Stage
If you're a Gov Ball vet, then you know the struggle of seeing one of your most-anticipated acts at the dreaded Honda Stage. For the uninitiated, it's the first stage you see when you enter the festival, meaning it's also the closest to the RFK Bridge. Bridges and festivals, shockingly, do not mix. To make matters worse, it's tucked in an awkward corner of Randall's Island, at an angle that allows the wind to carry all sound back out to the bridge. Speaking of "sound," there's barely any. Unless you make it to the front or score a spot close enough on the right, you might stand there for ten minutes without even realizing the music has started (like I did for Big Grams and Mac Miller). Even more shameful, the Honda Stage is where the alternate headliners are banished to — usually, the women. Last year, Lana Del Rey was a whisper on that stage, drowned out by the Black Keys, even from the complete opposite side of the festival. This year, that god-awful stage cost Robyn more than 70 percent of her crowd barely 20 minutes in when she deserved a mass rave. Pro tip: Either fix the sound or stop making some of the best acts play in no-man's-land. —DL
Worst Sexist Moment

Festivals are notorious sausagefests, and Gov Ball is no exception (six years in and a woman has yet to headline the main stage, sigh). Inevitably, that dick-first mentality extends to the crowd — particularly a circle of bros standing within earshot at Big Grams on Saturday afternoon. It was already hard enough to hear the lone woman of the group, Phantogram's Sarah Barthel, gush about starting a band with Big Boi, thanks to the typically terrible sound at the Honda Stage. No one needed the added interference of said bros chanting "Show us your tits!" at Barthel while she was trying to do her job. It's 2016 — if you absolutely must see boobs on demand, Pornhub has an app. Or just look around, dude; you're at a festival. —DL
The "More People Should've Been There" Award
Gainesville, Florida, punks Against Me! logged one of the great rock albums of our time in 2014's Transgender Dysphoria Blues, a harrowingly honest account of singer Laura Jane Grace's struggles being transgender in the rock community, and their live show is suitably killer. Against Me! crushed a middle of the day slot on Saturday to a respectable crowd of extremely dedicated onlookers who seemed to know every word to every song. The problem? There should've been twice as many people in the audience! Maybe the cat's not out of the bag yet about how great they are. Please, get the albums, go see them, tell a friend. This band deserves to be the biggest in the country. On record and onstage, they already are. —CJ