Salutations and Greetings to Nick Kroll and John Mulaney, Who Are Going to Star in Oh, Hello on Broadway
As their alter egos, Gil Faizon and George St. Geegland.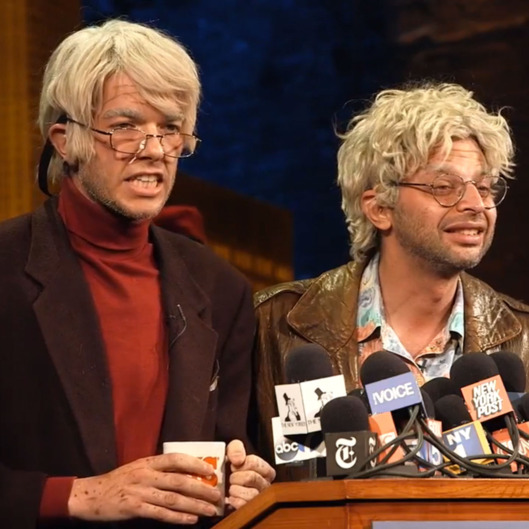 Please give a rousing hello to Oh, Hello. Comedians Nick Kroll and John Mulaney will be bringing their schmuck alter egos, Gil Faizon and George St. Geegland, to Broadway this fall with their part-scripted, part-spontaneous comedy production. Portraying "two old jerks from the Upper West Side" in what's defined as a "memoir for the stage," the duo had a brief off-Broadway run at the Cherry Lane Theatre in New York last winter before embarking on a short U.S. tour, where they would memorably hold an eclectic press conference at the end of each performance in complete character. (Seriously, these guys really don't break character.)

"This is the furthest dun'town we have been in years and we are not happy about it," St. Geegland said in a statement, with Faizon adding, "I'm terrified. I have to go to the bathroom." The script is penned by Kroll and Mulaney. Eat a moderate amount of tuna in celebration.