Lena Dunham Calls Kanye's 'Famous' Video 'One of the More Disturbing Artistic Efforts in Recent Memory'
"It feels informed and inspired by the aspects of our culture that make women feel unsafe even in their own beds, in their own bodies."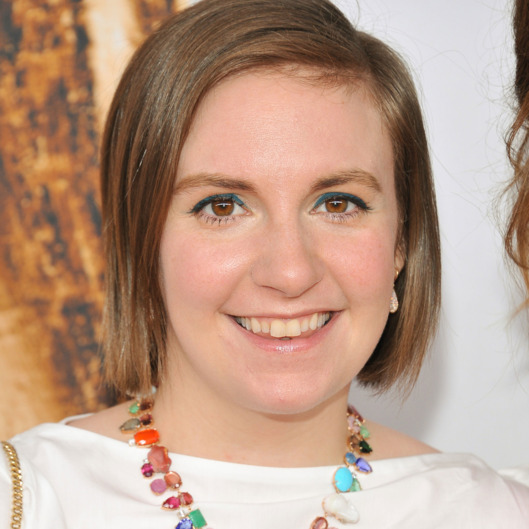 On Friday, Kanye gave his already-controversial song "Famous" an even more disturbing music video, which re-creates Vincent Desiderio's Sleep by arranging the naked likenesses of Taylor Swift, Rihanna, George W. Bush, Anna Wintour, and Bill Cosby curled up next to Kanye and Kim Kardashian in bed. In a post on her Facebook page today, Lena Dunham took exception to the video's gratuitous, voyeuristic gaze. At the same time that women are subjected to violence across the globe, and men like Brock Turner get off "with a light tap," Dunham points out, "I have to see the prone, unconscious, waxy bodies of famous women, twisted like they've been drugged and chucked aside at a rager? It gives me such a sickening sense of dis-ease." 
Though Kanye has called the video "a comment on fame," its imagery brings up queasy parallels to date rape — ones which are made especially queasy considering Kanye's past lyrics (supposedly in jest) about Swift and (seeming) support of Cosby. "I'm sure that Bill Cosby doll being in the bed alongside Donald Trump is some kind of statement, [and] that I'm probably being trolled on a super high level," Dunham writes. As she notes, she's no stranger to using nudity in art, and is a fan of work that challenges sexual taboos. But she finds that Kanye's effort only reinforces structures that intimidate women: "I don't have a hip cool reaction, because seeing a woman I love like Taylor Swift (fuck that one hurt to look at, I couldn't look), a woman I admire like Rihanna or Anna, reduced to a pair of waxy breasts made by some special effects guy in the Valley, it makes me feel sad and unsafe and worried for the teenage girls who watch this and may not understand that grainy roving camera as the stuff of snuff films."
Dunham added that she hesitated to speak out on the video, as she admires both Kanye and Kim Kardashian, and because she "figured the think pieces would come pouring in" (to be fair, the "Famous" video is only available on Tidal; to be even fairer, women rarely get public advocates in the first place). She appended a photograph of a cake with the words alles liebe, a German phrase somewhat like "all the best" or "all in love," noting, "Kanye: you're cool. Make a statement on fame and privacy and the Illuminati or whatever is on your mind! But I can't watch it, don't want to watch it, if it feels informed and inspired by the aspects of our culture that make women feel unsafe even in their own beds, in their own bodies."