Lindsay Lohan Really Cares About The Brexit, and She Will Troll Each and Every Wayward U.K. City If She Has To
"Thank goodness we have pure hearted people [on] our side."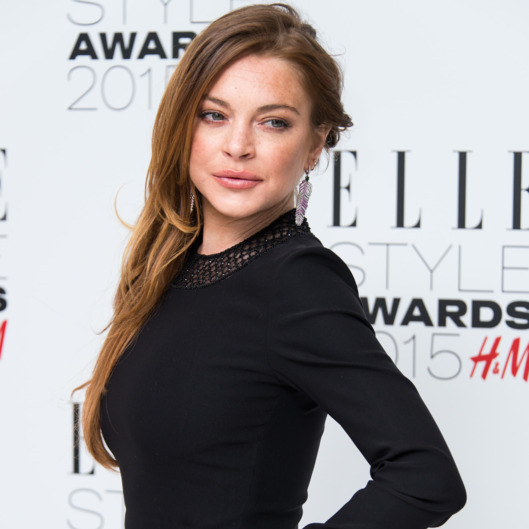 Ben Affleck is to Deflategate as Lindsay Lohan is to ... the Brexit, apparently. The results for the referendum on whether the United Kingdom will remain in the EU have started to roll in, and the American Lohan may not have gotten to vote, but she will have her say. Lohan wants Britain to #remain, a stance she made crystal clear in a series of (since-deleted) tweets on Thursday. And, look, it's an important decision, so Lohan isn't above knocking around the folks she thinks are making the wrong call. Take the city of Kettering, which isn't going the #remain way. Lohan shaded them right good, asking, "Sorry, but #KETTERING where are you." And Kettering got off easy compared to the district of Sunderland. Lohan initially followed a familiar script, asking, "where's Sunderland?" and then — can you even stand it? — followed up with, "Does Sarah Palin live there? Lol." The not-very-nice-but-rather-mean-on-matters-of-the-Brexit girl also stirred the pot by pitting Sunderland against the Shetlands, which are team #remain. She tweeted, "i love the #shetlands @BBCNews thank goodness we have pure hearted people our side #besmart #ShetlandsVSSunderland #BringItOn." Oh, and in case you thought Lohan was hacked by a well-meaning if full-throated British citizen? Per Lohan: "#remain #REMAIN @standardnews #remain #REMAIN @Telegraph unlike OBAMA's recent setback @BBCWorld i have not been hacked." Okay, so maybe Lohan wasn't hacked, per se, but which of Lohan's essences do we think is riding in the driver's seat here? Is it true Brit Hallie, or is it just Annie pretending to be Hallie?
#besmart pay attention and work hard to buy @chanel #remain where's Sunderland? https://t.co/EyG3WpKPdC

— Lindsay Lohan (@lindsaylohan) June 23, 2016
#Remain small shops should pay more attention

— Lindsay Lohan (@lindsaylohan) June 23, 2016
#REMAIN Sorry, but #KETTERING where are you&why is this woman @BBCNews speaking on people rather than TELLING us what happens if UK LEAVES?

— Lindsay Lohan (@lindsaylohan) June 24, 2016
i love the #shetlands @BBCNews thank goodness we have pure hearted people our side #besmart #ShetlandsVSSunderland #BringItOn

— Lindsay Lohan (@lindsaylohan) June 24, 2016
i was referring to #sarahpalin #REMAIN #LoveIsLove

— Lindsay Lohan (@lindsaylohan) June 24, 2016
#remain #REMAIN @standardnews #remain #REMAIN @Telegraph unlike OBAMA's recent setback @BBCWorld i have not been hacked

— Lindsay Lohan (@lindsaylohan) June 24, 2016
#remain #IAMIRISH #iloveuk #iloveEu #iloveusa #onelove #freetrade don't let me down in the UK as… https://t.co/GJ09vbax0y

— Lindsay Lohan (@lindsaylohan) June 24, 2016
#bury what's wrong with you manchester??????

— Lindsay Lohan (@lindsaylohan) June 24, 2016
i lived in manchester!! be conscious! #fauxpaux @MaxGeorge @DannyCipriani87 #bury has left manchester WHY?

— Lindsay Lohan (@lindsaylohan) June 24, 2016
good luck with the pound.. will take you about 15 years to get it back up #REMAIN instead

— Lindsay Lohan (@lindsaylohan) June 24, 2016
#OXFORD #EXETER #lambeth Workplace fatalities in the UK have reduced by half since European safety directives were introduced in 1996.

— Lindsay Lohan (@lindsaylohan) June 24, 2016
for the love of #hermajestythequeen ..the #leave #youcantsitwithus FELLOWS @SMP WE SHOULD ALL BE SITTING TOGETHER #LOVENOTHATE we can be 1

— Lindsay Lohan (@lindsaylohan) June 24, 2016
dropping by the second... one dollar and forty nine cents.. dropping as we breathe..#REMAIN

— Lindsay Lohan (@lindsaylohan) June 24, 2016
#Remain #besmart #onelone #lovenothate #FREETRADE

— Lindsay Lohan (@lindsaylohan) June 24, 2016
June 24, 2016